Dallas-bound Southwest Airlines flight 1380 made an emergency landing in Philadelphia on Tuesday, 20 minutes after leaving LaGuardia, because of an uncontained engine failure. It started when a fan blade from the left engine (a CFM56, to be exact) snapped off due to metal fatigue (you can read more about metal fatigue here). Forty-three-year-old Jennifer Riordan was partially sucked through an opening in the plane, and though passengers helped her back inside, she died from blunt trauma later that day. This tragic incident probably triggered an unavoidable question, even if Southwest pilot Tammie Jo Shults was able to safely land the aircraft: how often do planes crash?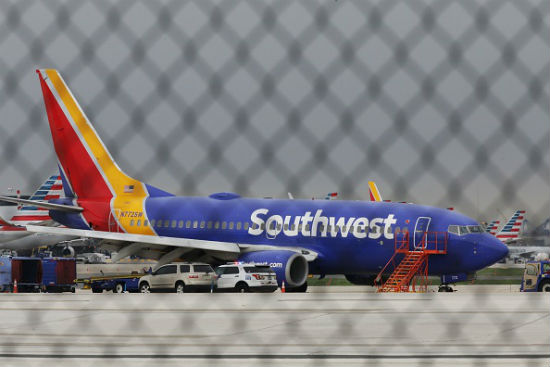 Shults released the following statement on Wednesday:
Please see below a statement from the Captain and First Officer of Flight 1380. pic.twitter.com/RjoCpucGGS

— Southwest Airlines (@SouthwestAir) April 19, 2018
Riordan's death was the first on a U.S. commercial aircraft since 2009, when a Colgan Air flight lost control while en route to landing at Buffalo-Niagara International Airport and crashed into a home, killing 50, including a resident of that home.  
National Transportation Safety Board Chairman Robert Sumwalt says that they see "about three or four [uncontained failures] a year," which, according to Politico, don't always involve U.S. airlines.
The U.S. Federal Aviation Administration (FAA) is ordering an inspection of fan blades on about 220 CFM56-7B engines within the next six months. More than 300 airlines use CFM56 engines, reports CNBC.
#FAA Statement: Airworthiness Directive (AD) – Required Inspections of Certain CFM56-7B Engines. pic.twitter.com/9gmkLqLdWP

— The FAA (@FAANews) April 19, 2018
How often do planes crash?
Plane crashes are rare.
Last year was the safest so far: The Aviation Safety Network recorded a total of 14 fatal "hull loss" accidents worldwide in 2017, with 59 casualties. Hull loss is defined as "an event in which an aircraft is destroyed or damaged beyond economical repair."
There were a total of 17 in 2016, with a reported 258 casualties. The Network notes that these numbers do not include, "corporate jet and military transport accidents/hijackings."
Airbus reported that, in 2016, there was a rate of 0.39 hull losses per million flight cycles.
So, how often do planes crash? Not often. In fact, you're more likely to get into an accident in a car than while on board a plane. 
According to Fortune, based on National Safety Council data, Americans have a 1 in 114 chance of dying in a car crash. The chances of dying in air and space accidents are 1 in 9,821. So please, breathe easy, and don't return those airline tickets for your upcoming vacation.