Netflix has a lot of good content available for streaming: Stranger Things, Riverdale, that new rom-com everyone's talking about — To All The Boys I've Loved Before — and some timeless classics. But, when it comes to sharing Netflix, whether that be with family members, significant others or friends, the struggle can be all too real.
Admittedly, I don't use my own account. Instead, I use my sister's boyfriend's account. (Confusing, I know). My boyfriend also uses it — but don't tell.
It can get quite complicated when there are a number of people trying to watch simultaneously.
First thing's first: find out how many users are allowed to stream Netflix from the account you're using at one time. 
Finding this out is simple.
How to check your Netflix plan
The number of viewers who can watch — or screens that can access — Netflix depends on the plan you currently use. 
There are three Netflix plans, and they each allow for a different number of viewers. If you're unsure of which plan you pay for, you can access this under your account settings.
Basic: On the Basic plan — $7.99 per month — you can only watch on one screen at a time.
Standard: The Standard plan — $10.99 per month — allows you to watch on two screens at a time.
Premium: The Premium plan — $13.99 per month — lets you watch on four screens at a time.
What if you want to watch Netflix with someone who isn't in the same room — or someone who's locked out of an account because there are too many devices in use?
Sharing Netflix is hard, but watching your favorite shows together shouldn't be. Here's how to beat the system and watch Netflix together.
Sharing Netflix: Watch Netflix together without being together
Let's say you're sick and can't make it to your friend's place for movie night, but you still want to watch Netflix together.
There are two main services you can use to sync Netflix with others remotely (Showgoers.tv used to be an option, but it no longer appears to be in service). 
The first, Netflix Party, is an extension exclusive to Chrome. One person must install the extension and, once you choose a show or movie to watch, that person will have to click the "NP" icon in the top right corner of the browser. They'll then get a sharable link to send to friends.
Everyone in this session will be able to chat online as well.
Sharing Netflix is easy on Netflix Party, but Mashable points out that you'll have to create a new session every time you want to watch another movie or show.
Rabbit is a website and app that allows you and the viewers of your choice to watch Netflix together (it also works on Hulu and other streaming sites). It can be used with any browser (though there's an extension available specifically for Chrome).
The stream quality, according to reports, isn't the best. There's a chat window and, in order to watch Netflix together, participants must all have Rabbit accounts. Once you create one, you can invite the people you want to share the stream with into a live "room".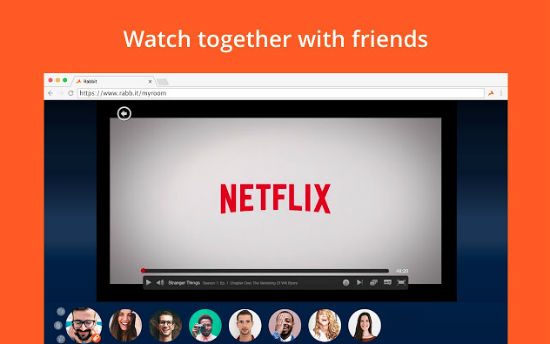 There are other things you can try — like hopping on a phone or FaceTime call and pressing play at the same time, praying that the audio will sync up — but why go through all that stress?
Watch Netflix together using these services instead because everyone deserves to see Noah Centineo nail his role as Peter Kavinsky in the screen adaptation of To All The Boys I've Loved Before. There's also Friends, Jane the Virgin and The Office, but you shouldn't skip out on Noah — if you don't do it for us, do it for the high schooler in you who never truly grew up.