New York City is surrounded by water, and it's all yours for the kayaking, sailing, swimming and surfing. There are tons of places for a free 20-minute kayak trip on the East and Hudson rivers, but you've got way more options from lakes to beaches. Here's our guide to getting out on the water this summer.
Rent a paddleboat in Prospect Park
There are plenty of ways to get out onto the spectacular lake at the heart of Prospect Park. At the LeFrak Center, you can jump into a single or double paddleboat or kayak by the hour or at a day rate from 11 a.m. until sunset; for on-land water fun, stop by the Splash Pad mini water park either before or after your cruise. Or get into a traditional rowboat from the era when rowing first became a recreational activity in the park courtesy of Village Community Boathouse. Free sessions run from noon to 4 p.m. on Saturdays from June 10 to Aug. 26, launched from the ramp on Well House Drive.
Stand-up paddleboarding
Manhattan Kayak + SUP takes all skills levels into the Hudson River at Pier 84 for a scenic paddle along the shoreline (or even all the way to Surf City in New Jersey), or more advanced practitioners can get a serious cardio workout. Bring the kids — 13 and under paddle free! Classes start at $150 per person, 555 12th Ave. at West 44th St., Tue-Fri 2-5 p.m., Sat-Sun 12-4:30 p.m., manhattankayak.com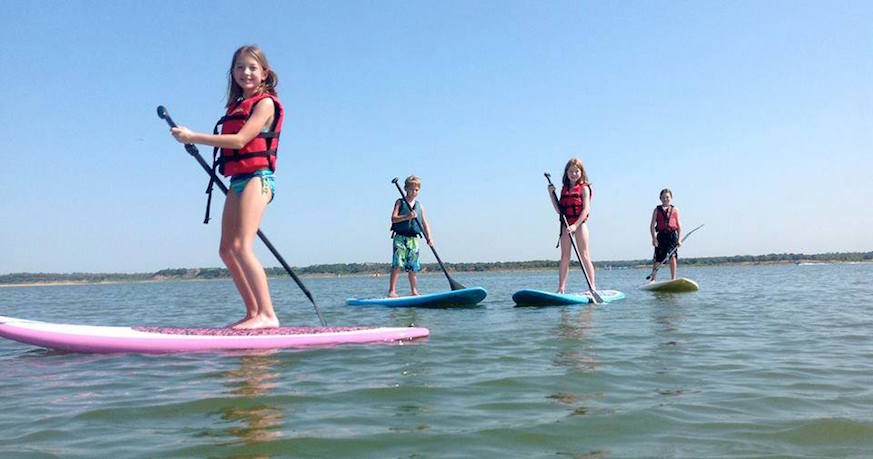 Explore Brooklyn's largest park
With over 500 acres of trails, water and woodland to explore, plus tons of courts for games from bocce to tennis, Marine Park in southeast Brooklyn can easily be an entire day trip. To get out on Gerritsen Inlet, rent a kayak or stand-up paddle board at the Salt Marsh Nature Center by the hour or the day. Note that you'll have to carry the vessels about 6-8 minutes to reach the water. 
Learn about the Hudson River ecosystem
Liberty State Park in New Jersey really makes that PATH trip worthwhile, with two-hour kayak tours of the Hudson River Estuary. Paddle within view of the Statue of Liberty while learning about the Caven Point habitat and wildlife. The Kayak Eco Tours are $20 per person and run from 10 a.m. to noon on select Fridays, Saturdays and Sundays from June to September. Participants must be at least 16 years old, and no prior experience is necessary — though keep in mind you'll be paddling in deep waters. Life jackets will be provided and must be worn. Registration is required by calling 201-915-3400 Ext. 202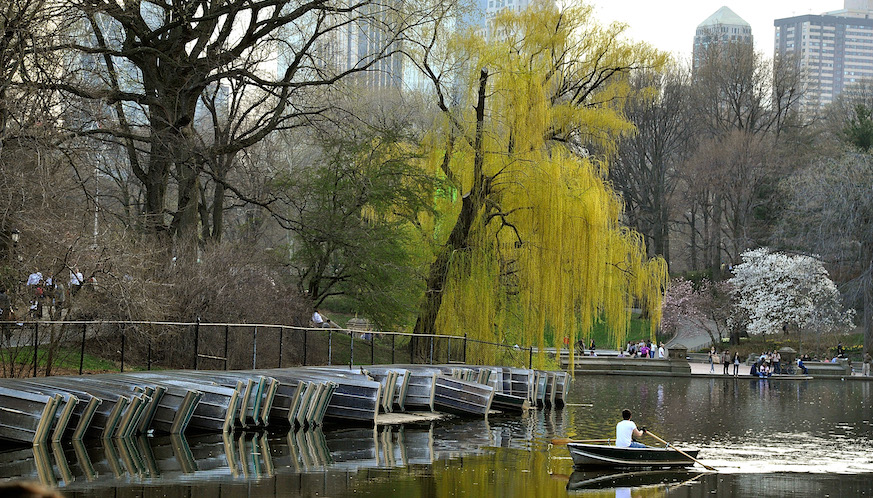 Take a rowboat out onto the Central Park pond
There's a reason taking a rowboat out onto the lake in front of Loeb Boathouse in Central Park is on our summer bucket list. The boats hold up to four people (including small children accompanied by an adult) and can be rented for $15 per hour, plus a refundable $20 deposit (cash only) from 10 a.m. until sunset (weather permitting). Or let someone else do the hard work and get a taste of Venetian life on a gondola tour for up to six people for $45 per half hour. East 72nd Street and Park Drive North
Get up close to the Gowanus Canal
Learn how the city's most troubled waterway got that way and what's changing now on a tour with the Gowanus Dredgers Canoe Club. The group will lend you a vessel for a self-guided tour (they provide the map) of 5 miles of the canal. Bookings must be made at least 10 days in advance. There's a suggested donation of $5 per person; free 20-minute trips are also available if you just want to try canoeing. Second St. near Bond St.
Surfing in the Rockaways
NYC's only beach for surfing is also the city's newest foodie destination — just don't do one too soon after the other). While you could surf year-round (and the waves are better in the winter), summer sessions are a great time for beginners to try the sport. Surf Lessons New York offers morning classes seven days a week starting at $90 for a two-hour group session including surfboard and wetsuit, or if you already know how, $35 gets you a board for four hours. 9 a.m., 11 a.m., 12:30 p.m.; plus 7 a.m. and 2:30 p.m. on Saturday and Sunday, surflessonsnewyork101.com
Explore Jamaica Bay
Take the L train all the way to the end of the line to find Sebago Canoe Club in Canarsie, which offers guided kayaking of Jamaica Bay to the public on Saturdays at 9 a.m. beginning June 3 through Aug. 26. The volunteer-run nonprofit charges $10 to cover insurance fees and doesn't take reservations, so get there early. Excursions last up to two hours, and guest lecturers do accompany some trips. Note: You'll be expected to help carry and clean the equipment. Open to ages 16-80.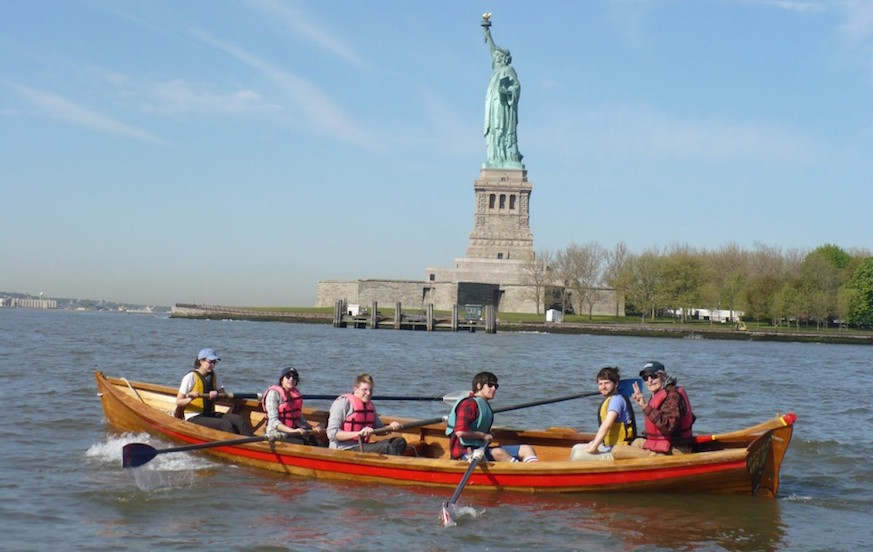 Do it all at Hudson River Park
Hudson River Park packs as much fun into its waterway as the concerts, festivals and movies on its parkland. Free 20-minute kayaking sessions can be found on Piers 26 and 96, or opt to rent a kayak or SUP paddleboard from Manhattan Kayak on Pier 84 for a spin around Intrepid Bay (Tues-Fri 2-5 p.m., Sat-Sun 12-4:30 p.m.) Set out on boat excursion with five tour companies, try Polynesian outrigger paddling at Pier 66 (free, must be 14+, sign up), row with Village Community Boathouse on Pier 40 (Sundays at noon, Tuesdays at 6 p.m.), learn to sail with Hudson Sailing on Pier 66 (lessons start at $60), or even swim in a designated safe area at Pier 96.
Have a mellow time on Meadow Lake
At Flushing Meadows Corona Park, head to Wheel Fun Rentals at the northern edge of Meadow Lake to get on the water in a solo or two-person kayak ($15/$22), or two- or four-person paddle boat ($20/$30). Rates are hourly, though kayaks can be rented for a half or full day at special rates. Last boat rental is two hours before sunset.
Tour the Bronx River
The Bronx River had a rough go of it, going from having industrial waste dumped into it during the 1800s to becoming fetid with sewage in the early 20th century. But intensive cleanup efforts since the 1970s have not only cleaned up this 23-mile uptown waterway but brought back much of the natural beauty surrounding it. Today, the Bronx River Alliance is the river's caretaker, leading canoeing and kayaking trips beginning in June through the middle of October. The length and cost of the trips vary, from free to $30.