Images of children on concrete floors. Videos of them sitting in cages — and audio of kids' pleas for their mothers and fathers. The en-masse separation of children and parents has gone viral, and people across the nation are crying foul against the "zero-tolerance" Trump immigration policy. Many are looking for ways to offer aid — and now you have options on how to help families separated at the U.S.-Mexico border.
First, why children are separated from parents
The Department of Homeland Security argues that these children, separated from their parents at the U.S.-Mexico border, are being cared for and treated well. Trump blamed the situation on Democrats "being weak and ineffective" with border security "and crime."
"Tell them to start thinking about the people devastated by Crime coming from illegal immigration. Change the laws!" Trump tweeted Monday night, also questioning, "Why don't the Democrats give us the votes to fix the world's worst immigration laws?"
Trump then tweeted Tuesday morning that Democrats "don't care about crime and want illegal immigrants, no matter how bad they may be, to pour into and infest our Country, like MS-13. They can't win on their terrible policies, so they view them as potential voters!"
I want to take a moment to address the current illegal immigration crisis on the Southern Border…it has been going on for many, many decades… pic.twitter.com/1F7EK9Ef88

— Donald J. Trump (@realDonaldTrump) June 19, 2018
But why is this separation happening?
"Typically, people apprehended crossing into the U.S. are held in immigration detention and sent before an immigration judge to see if they will be deported as unauthorized immigrants," Vox explains. "But migrants who've been referred for criminal prosecution get sent to a federal jail and brought before a federal judge a few weeks later to see if they'll get prison time. That's where the separation happens — because you can't be kept with your children in federal jail."
The number of separated families spiked to over 2,000 since the implementation of the Trump administration's strict "zero-tolerance" policy, which was introduced back in April. The Trump administration claims that, in some cases, they've separated families who seek asylum in the U.S. if they're worried about the children's safety, or if evidence of the parents' legal custody is lacking.
How to help families separated at the U.S. border
Wondering how you can do your part in aiding those affected? Here's how to help families separated at the U.S. border.
Donate
According to CNN, Charlotte and Dave Willner have raised over $4 million in donations through Facebook to help families separated at the U.S. border.
Their fundraiser was for The Refugee and Immigrant Center for Education and Legal Services (RAICES), a Texan nonprofit that provides legal services for immigrants and refugees in Texas.
You can donate to the Willners' fundraiser here — and can donate directly to RAICES here.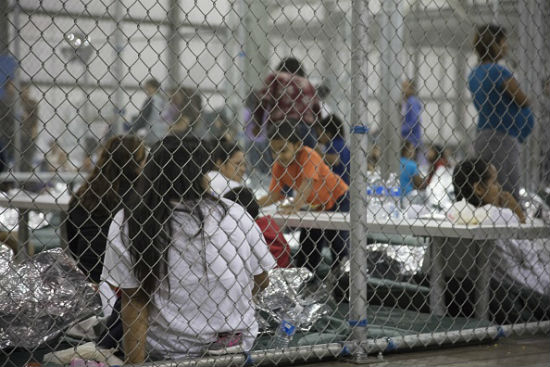 The following is a list of other organizations you can donate to that are providing legal services to separated families — or are working to end immigrant detention or provide aid to those in immigration detention centers:
The American Civil Liberties Union
Houston Immigration Legal Services Collaborative
The Texas Civil Rights Project
The Kids In Need of Defense (KIND)
The National Immigrant Justice Center
The Services, Immigrant Rights & Education Network (SIREN)
The United Farm Workers Foundation (UFWF)
These are just a few organizations you can donate to if you're wondering how to help families separated at the U.S. border.
Volunteer
The Immigration Justice Campaign, run by the American Immigration Lawyers Association and the American Immigration Council, is in need of volunteers to help detained immigrants and those separated from their families. "Some opportunities are for pro-bono attorneys, while others seek volunteers with a wide variety of skills to help with things like interpretation or to provide professional mental health evaluations for trauma survivors," according to the website.
For those interested in volunteering to help families or other detained immigrants, please go to the #ImmigrationJustice Campaign site to find opportunities to plug in and make a difference, in-person or remotely: https://t.co/xJX6JEeB0j

— AILA (@AILANational) June 19, 2018
There are also remote bond teams devoted to assisting detained immigrants in need of legal help.
The Texas Civil Rights Project is seeking volunteers who "speak Spanish, Mam, Q'eqchi' or K'iche' and have paralegal or legal assistant experience" to help lead interviews in Texas.
RAICES is also offering volunteer opportunities.
Contact your local representative
There are several congressional bills fighting to prevent the separation of families at the U.S. border. One, for instance, is Dianne Feinstein's (D-Calif.) Keeping Families Together Act. If protesting isn't your thing, and you still want to put some pressure on your elected official, contacting them is a good option.
To find out who your elected official is, click through to the House of Representatives website and enter your ZIP code.