Coachella starts on the second spookiest day of the year: Friday the 13th. If you're nowhere near Indio, California — or anywhere on the west coast for that matter — and don't have the funds or spare time to get your Coachella on, fear not! You can actually live stream Coachella from the comfort of your living room couch (or wherever you normally camp out to watch Netflix).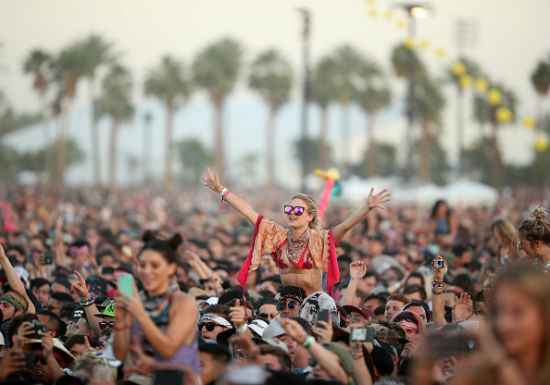 How to live stream Coachella
YouTube is live streaming Coachella for the first weekend (April 13 – 15). There are over 75 confirmed artists who will be included in this broadcast such as Haim, The Weeknd, Tyler, the Creator and Beyoncé. (Did we mention you can live stream Beyoncé?!)
The live stream will be compatible with any screen — desktop, TV and mobile devices.
Watch Coachella 2018 live performances and more on https://t.co/gW7w2kc8pG + this year, check out our 4th always-on VR180 channel. pic.twitter.com/uCsIH4QV4n

— Coachella (@coachella) April 9, 2018
You can plan out your Coachella live stream in advance by registering for a free account and selecting the acts you want to see — that way, they will automatically play if you're engrossed in a different performance when one of your faves comes on.
More info: live stream Coachella
If that isn't enough, Coachella is also adding a 4th channel to the live stream, which, according to the site, will cover the "Main Stage, Sahara Tent, and festival grounds in an immersive VR180 stream."
For how to use this virtual reality tool on your phone, TV or desktop, view instructions here.
You can also download the Coachella app to stay connected and be the first to receive important updates.
Ready to live stream Coachella? Let's do this
Click this link to access the Coachella live stream on YouTube.
Before we let you go into the flower-crowned, creative abyss, here's another quick tip. If you want to get the Coachella experience during the second weekend (April 20 – 22), you can always rely on social media feeds for coverage — we're sure Internet influencers and select brands will be documenting their every move.
Or, perhaps, some lucky friends of yours are attending the festival. Just tell them to send you all the good stuff while you're at home pretending it's 70 degrees and sunny. The music lover in you will still get your Coachella fix (and Beyoncé, no less).