The Emmy Awards 2018 will be broadcasted live this Monday from the Microsoft Theater in Los Angeles and we are already casting out bets on which nominees will be taking home awards this year. If you are one of the many out there who has given up cable in exchange for a "streaming only" household, we have compiled all of the different ways that you can watch both the red carpet coverage and the Emmy Awards 2018 online for free and in real time.
But before we do, let's talk about who will be hosting this year's show…
Emmy Awards 2018: Hosted by Colin Jost and Michael Che — What can we expect?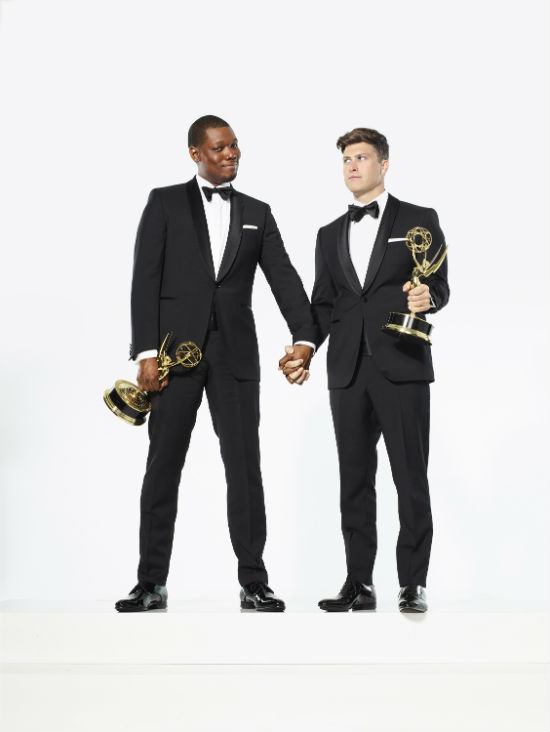 Michael Che and Colin Jost will be hosting the Emmy Awards 2018. Photo Credit: Getty Images.
The Emmy Awards 2018 will be hosted by SNL co-head writers and Weekend Update hosts Colin Jost and Michael Che. The two have been known for the scorched-Earth approach to comedy and will likely not hold back any punches on the celebrities in attendance.
As for what viewers can expect, Jost broke it down in a recent interview with Variety saying that it will be "somewhere between what we do as stand-ups and what we do for Weekend Update, I'm guessing, some mix of that."  Adding "it'll generally be a very 'SNL' event, and there'll be a lot of our cast members, a lot of former cast members. The nice thing about the Emmys is that a lot of the people who are there who are nominated, we've been fortunate and they've come and hosted the show so they'll be able to participate, hopefully, and do some things."
As for Che, all he could promise was that he would be long winded. You can expect a very, very long speech from me," Che told Variety. "A very long speech."
How to watch the Emmy Awards 2018 red carpet coverage
As always, you can see the best looks of any red carpet event on ETonline.com as they arrive, but you can also access the live red carpet show through a number of different streaming platforms — more on that bellow — for both NBC and the E! Channel's coverage.  
Watch the Emmy Awards 2018 for free
If awards shows are your thing, you probably don't need us to tell you that the Emmy Awards 2018 will be broadcast live on Monday, September 17th on NBC at 8pm ET/5pm PT. while many will be able to simply flop down on their couch after they have assembled their Emmy snack stadiums on their coffee tables minutes before the broadcast, those "cord-cutters" out there who rely on streaming services will have to plan out how they view this year's awards.
For those who are more interested in gaming than mindlessly channel surfing, you can actually watch the live broadcast through Playstation Vue. Basic TV packages through Vue begin at $39.99 per month. But if you are only getting into this for the 2018 Emmys, you can start a 5 day free trial free of charge.
Other online TV services like Hulu, Sling TV, DIRECTV Now, and Philo TV offer free trial periods and can be downloaded directly onto either your Apple TV, Amazon Fire Sticks, or Roku devices. If you don't have a television, you can also download these programs in app form to your phone or — for an optimal viewing hack— stream it on your laptop and hook up to a projector. That's providing you are one of those cool kids who has one of those gadgets.
These platforms will, for the most part, ask you to fill in your credit card information even to sign up for their free trials. But, rest assured, you will not be charged if you back out before the trials run their course. Just remember to cancel these free trials if you don't think you will be in it for the long haul!