Want to experience life north of The Wall without freezing your sword hand off? How walk the streets of King's Landing without fear of Cersei's zombie Mountain lurking around every corner?
That's the idea behind the new Game of Thrones: The Touring Exhibition, which promises to be the largest traveling show about the show at 10,000 square feet of "immersive environments" created by GES, the company behind 2009's Harry Potter: The Exhibition. 
Besides the usual collection of costumes and props from the series (including the upcoming Season 7), the exhibit's main attraction puts you right into "immersive environments" recreating some of the show's most famous settings.
The coolest part sounds like you won't just be retreading the paths worn by the characters in the series, according to HBO's description: "Visitors will experience the mythical lands of Westeros and Essos and relive the trials and tribulations of the series' nobles and common folk alike who struggle for survival in the shadow of the Iron Throne."
The range of settings really will take you through the Seven Kingdoms and beyond, from the beyond The Wall to the former slave city of Meereen, (what's left of) King's Landing and the home of the Faceless Men, House of Black and White, Castle Black and, of course, the Iron Throne. We hope they're going to let us do more than just gaze at it though: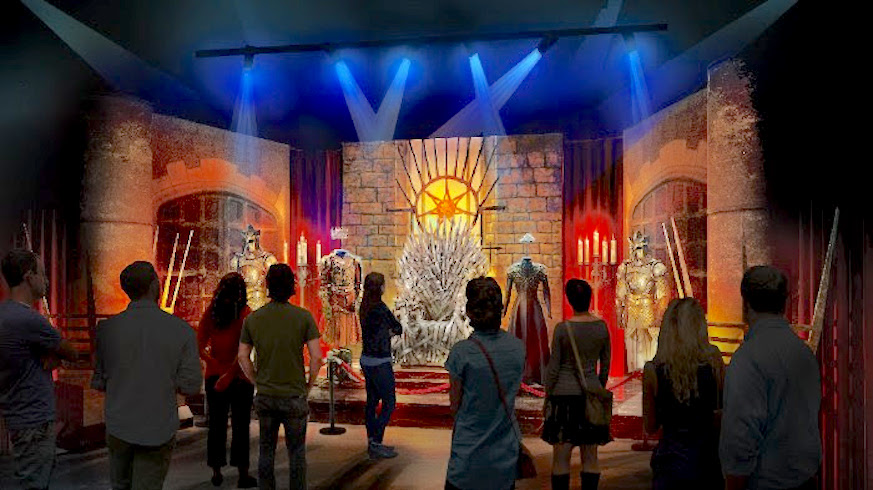 Kicking off this fall, the exhibition thoughtfully arrives just as your Season 7 high was about to crash into the abyss of waiting for Season 8, which starts filming in September and likely will still air sooner than George R.R. Martin finished the next "A Song of Ice and Fire" book. 
Alas, the tour's first stop will be an as-yet undisclosed European city. Seems a bit redundant given that almost all the filming for the series takes place in various exotic locales on the continent, but "Game of Thrones" fans are nothing if not experts at waiting.
Not that you needed a reminder, but Season 7 premieres July 16 at 10 p.m. on HBO. Hope you like war, because that's what you're getting: