One of New York City's most iconic Christmas traditions just got a high-tech makeover.
The stars of Radio City Music Hall's Christmas Spectacular have always been and continue to be the famous Rockettes dancers, but this year audiences will be treated to an extra layer of excitement: a modern overhaul of the production in the form of updated technology and enhanced digital elements.
"We've expanded upon the existing projections to create a wholly immersive experience for our fans from the first row to the third mezzanine," said Larry Sedwick, senior vice president of production for the Christmas Spectacular. "It was just a great challenge, and we are very excited about the results."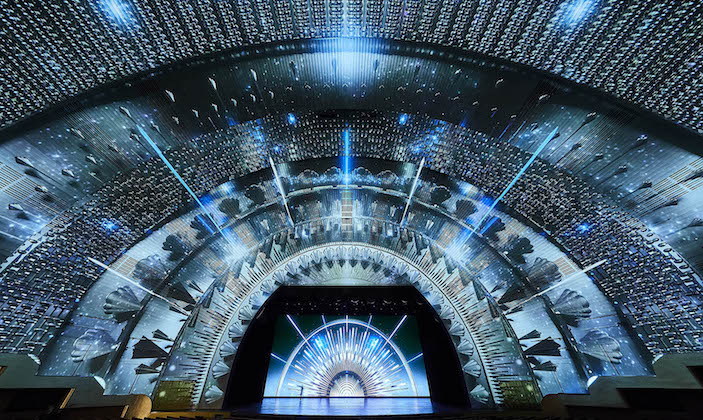 Combining the Rockettes' precision dancing with the story of Christmas, this family-friendly winter show has been a staple for locals and tourists alike in various formats since the 1930s.
The intricately choreographed performances are set to a variety of holiday songs including such classics as The Twelve Days of Christmas and Here Comes Santa Claus.
For over 15 years the multimedia design studio batwin + robin has complemented these dance numbers with digital projections and 3D effects. This season's overhaul will boost these existing flourishes, adding innovative design and cutting-edge technology to each performance.
Planned and executed by San Francisco-based design studio Obscura Digital, these added features include a new LED wall with 8K resolution that acts as a backdrop to the Christmas Spectacular. Another new element is enhanced digital projections and effects set to be used throughout the show.
The addition of innovative digital mapping technology allows the ceiling as well as all eight of Radio City's iconic proscenium arches to have imagery projected onto them, immersing the entire audience in the action.
"It creates a total virtual environment," said Jessica Palu, a Rockette performing in the show. "It feels as immersive as if you were wearing a virtual reality headset."
Palu's favorite use of this new technology comes during the performance of Snow, as the projections work to surround the audience with falling white flakes. "You feel like you are inside of a snow globe," she said.
So, whether this is your first time attending the show or you are ready to grab your tickets as part of a yearly tradition, the 2017 edition of the Christmas Spectacular Starring the Radio City Rockettes is sure to ignite your holiday spirit with a unique combination of old school holiday cheer and forward-thinking technological flourishes.
The Christmas Spectacular starring the Rockettes is playing now through Jan. 1, 2018 at Radio City Music Hall, 1260 Sixth Ave. Tickets start at $49.