YouTuber Tom Scott has over 1.1 million subscribers. He's launched an entire fireworks display at once, explored a European city with no street names and underwent Royal Air Force pilot training to sustain g-force pressures. And in his latest video, Scott decided to eat space garlic bread (baked dough sent to the edge of the atmosphere and back).  
With the help of Steven Randall from Random Aerospace and "My Virgin Kitchen" host Barry Lewis — who baked the garlic bread — Scott wanted to test out how it would taste after traveling via weather balloon through extremely high and extremely low temperatures.
Why garlic bread? "Because it's delicious," Scott said in the video, adding that someone already sent pizza into space a few years ago. (This is true. A teenager also sent up, then ate a Twinkie.)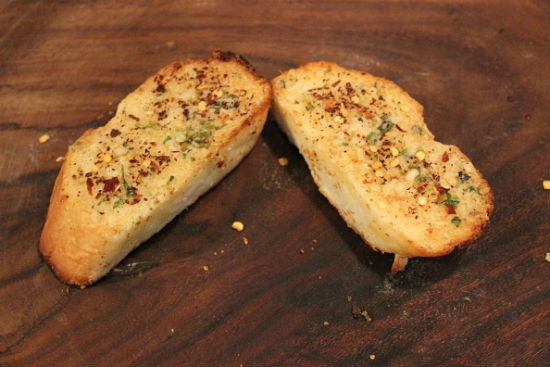 "This started as a conversation in a pub a few weeks ago, and turned into one of the more ridiculous videos I've ever done," Scott told BT. "We [sent] home-made garlic bread skyward on a balloon; exposed it to the stratosphere, 35km up; successfully returned it to Earth in a protective box; and then ate it."
"As it goes up, the atmosphere is getting thinner and thinner and there's less and less air pushing in — the balloon itself will get bigger and bigger," Randall, who's done "high altitude ballooning" for about 10 years, explained in the YouTube video. "So, eventually the balloon with pop and the equipment will parachute down to the ground, and we'll go and recover it."
Randall said they normally predict the landing to be within 5 miles of the launching point, but they tracked the balloon using a GPS, so the space garlic bread was easily retrieved. They also didn't have to worry about where the bread landed — or animals getting to it — because once it reached 1,000 meters above the ground, the bread was sealed inside the box on which it was strapped.
The verdict: what did the space garlic bread taste like?
Compared to normal "Earth" garlic bread, the space garlic bread didn't easily rip apart. Instead, it broke off in even chunks. Scott said it was tough and had an "icy middle," too because it had frozen in the stratosphere.
As he described so simply, "It tasted… cold."
Watch Tom Scott try space garlic bread 
This space garlic bread experiment has already gotten almost 1.2 million views on YouTube since its publication on Monday, April 23. Watch below: