The first season of Aaron Boone as New York Yankees manager, a 100-win season, is over much earlier than expected. 
The Boston Red Sox eliminated the Yankees on Tuesday night in Game 4 of the ALDS, a 4-3 victory allowing New York's arch-rivals to celebrate in the Bronx. 
It's a disappointing and maddening end to a season as Yankees fans are in the throes of overreactions while using that silly platform that is social media to air their grievances. 
Among the complaints, desires and suggestions are (and this is just a summary): 
-Get rid of Giancarlo Stanton
-Sign Manny Machado and/or Bryce Harper
-Go get starting pitching
-Fire Aaron Boone
That last one is a peculiar idea, one that has been repeated by Yankees fans throughout a mediocre second half of the season. 
Boone was basically handed the keys to a roster that is the equivalent of a Ferrari. With the kind of talent they had — from Stanton, to Aaron Judge, to Gleyber Torres, to Miguel Andujar, to Luke Voit (from the rafters, might I add), to a dominant bullpen — there's a good chance management could pick out a fan from the mezzanine level of Yankee Stadium, give them a uniform and they could manage to win 90-plus games with that team. 
Winning 100 games is quite an accomplishment and was almost expected from an entitled Yankees fanbase, but the ALDS against the Red Sox showed that New York has to reach another level of success and chemistry to legitimately challenge for a World Series title. 
It was Boone who is drawing much of the criticism given the way he handled things in Games 3 and 4 of the series.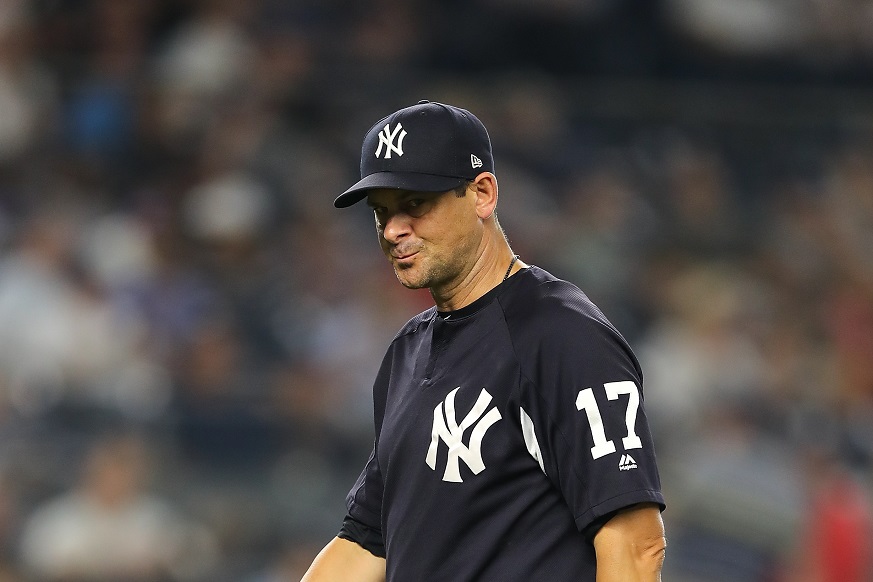 The vitriol began when he left a seemingly unprepared Luis Severino in Game 3 after he allowed three runs in the opening three innings. Rather than hand things over to his dominant bullpen, Boone let the struggling 24-year-old, who had a terrible second half of the season, go out for the fourth inning. 
In a blink of an eye, the bases were loaded with no outs, forcing Boone to try and play damage control. He opted to bring in Lance Lynn, normally a starter, to relieve Severino and enter a situation even the best of relievers would have difficulties getting out of unscathed. A hit batter and a bases-clearing double later and the game was over as the Red Sox went on to hand the Yankees their worst postseason loss in franchise history, 16-1. 
You would think he would have learned his lesson about leaving his starter in too long, right? 
Wrong. 
The very next night in Game 4, Boone kept veteran southpaw CC Sabathia in to pitch the third inning after narrowly getting out of a bases-loaded jam in the first where Ian Kinsler hit a two-out fly ball to the warning track in left field that looked like a grand slam off the bat. 
It was clear Sabathia didn't have his best stuff, but there he was going through the Red Sox order for a second time, a decision that would cost Boone and the Yankees their season. The Red Sox scored three in the third and another in the fourth, which was just enough to survive a furious bottom-of-the-ninth comeback to move on to the ALCS. 
There obviously plenty of blame that has to be placed on the players' shoulders as the Yankees looked defeated for most of Game 4. But Boone will be left to overthink and answer for the decisions he made, which at the end of the day were the wrong ones as a Yankees team that was supposed to be playing deep into the final weeks of October are now dusting off their golf bags. 
Does that cost him his job? Not likely. But Boone will have to do a lot to prove that he is the right manager for the Yankees and it might mean tightening up the ship. 
Baseball is in an age where the "player's manager" prevails; someone who will come in and make friends with his teams in order to get in their good graces. Long gone are the days (that didn't seem so long ago) of Joe Torre, Bobby Cox, Tony LaRussa and Tommy Lasorda that prioritized winning over analytics, sabermetrics and friendship.
This isn't Little League. 
Having a few players dislike you is a small price to pay for a World Series ring, maybe that's something Boone needs to consider this winter.