As the partial federal government shutdown stretches into its 34th day on Thursday, the U.S. Senate will hold competing votes on two ways that this could all end: a Republican proposal that would give President Donald Trump his requested $5.7 billion for the border wall, and a bill from Democrats that would reopen the government through Feb. 8 with no money for the wall.
But both proposals may fail, experts say, with neither expected to achieve the necessary 60 votes to pass the Senate, prolonging the government shutdown as federal employees face their second missed paycheck.
Trump previously took sole responsibility for the shutdown, which is affecting more than 800,000 federal employees and even more Americans who rely on government services.
"If we don't get what we want … I will shut down the government. And I am proud to shut down the government for border security," he said told Senate Democratic leader Chuck Schumer and House Democratic leader Nancy Pelosi in December. "I will take the mantle. I will be the one to shut it down. I'm not going to blame you for it."
Now, though, with no government shutdown end in sight, Americans are throwing blame across the board. 
Forty two percent of voters blame the president, according to a new Emerson College poll, and 36 percent blame the Democrats in Congress. Six percent are blaming the Republicans in Congress, and 16 percent are blaming "everyone."
Voters are also split on Trump's proposal to end the government shutdown by offering temporary protections for DACA recipients, or "Dreamers." Fifty five percent oppose that deal, but 45 percent support it, according to the poll.
In general, voters are in favor of increasing immigration law enforcement at our borders (55 percent in favor, 24 percent opposed) but they're divided on whether or not Trump's border wall is the solution. Fifty nine percent believe it could be a solution, per the Emerson poll, and 41 percent say its not.
And during all government shutdown debate, Trump's approval is dropping. The president's job approval rating dropped to 52 percent disapproval and 42 percent approval in January, compared to 47 percent disapproval and 43 percent approval in December, according to Emerson Polling. 
If the Democrats, Republicans and president can't find a solution to the shutdown, how will this ever end? We asked New Yorkers what they think will happen, and what they would do if they were in charge.
New Yorkers answer 'What could end the government shutdown?'
Lemairy Allen, 37, lives in Manhattan and works in Financial Services
I think that [Trump] just needs to stop being so stubborn, that's it. I guess this is all because of the wall, so he's just stubborn and trying to get that passed so he can put it up. That's something that, you know — I feel like everybody has a project with these politicians and at some point you have to realize to let it go, so I think it's just his pride. I remember when [Former NYC Mayor Michael] Bloomberg wanted to get the stadium built in New York for the Olympics and at some point he realized it wasn't going to get done and instead of keep on fighting it he just let it go, I think that's a big part of it.
Everybody knows that there are these people that come into the country and are violent but I kinda think they have that situation isolated, also. They've already identified who those people are and … as far as there being terrorists or something like that, most people know that there's no proof that any terrorists have come through that way, and I don't think they would want to.
Yomary Delvalle, 22, lives in Manhattan, works as a dog and cat sitter
If Trump stops being an a-hole and builds the wall himself. I think he should just put his own money in it. If he wants it so bad then go right ahead and put your own money to it.
Do you think Trump's deal, offering protections for Dreamers, will be accepted? No, we're not gonna satisfy his needs, basically.
Shoon Mak, 54, lives in Manhattan, works at Customs and Border Protection at Newark Airport
How is the shutdown affecting you? I'm living on fumes right now. … I didn't pay my car insurance yet, I'm barely running on gas because I have to drive over there, barely making it on tolls. I have an 88-year-old mother and a girlfriend, and I'm the primary [caretaker].
What could end the government shutdown? Hopefully it will be over …in the next few days. I think if the president and Nancy Pelosi and Chuck Schumer, they all come together and agree on something instead of penalizing the federal employees. I know the president wants the wall and Ms. Pelosi and Mr. Schumer want more room for illegals here, more benefits for illegals, so I'm pretty sure they could work something out.
What would you do to end the shutdown? I would say give partial funding to the wall and partial funding to the illegals, until they become legal, or at least help them guide in that direction.
Katherine Skosnik, 30, lives in Brooklyn, works as a Psychiatrist
I think if we had the answer to that it would probably end a lot more quickly.
Do you see an end in sight? No. It seems like the Democrats have been pretty consistent in what they've been saying about putting money toward the wall.
If you were in charge what would you do? [laughs] Reverse time.
Aidan Farrell, 20, lives in Manhattan, student
What can be done to stop Trump? Not a lot. 
What would you do to end the shutdown? [laughs] I'm not intelligent enough to give a proper response to that. I don't think [the Dreamer deal] will happen.
Eventually, it's going to start really affecting people's lives, so when that comes around I think push will come to shove and Trump will crack with less demands.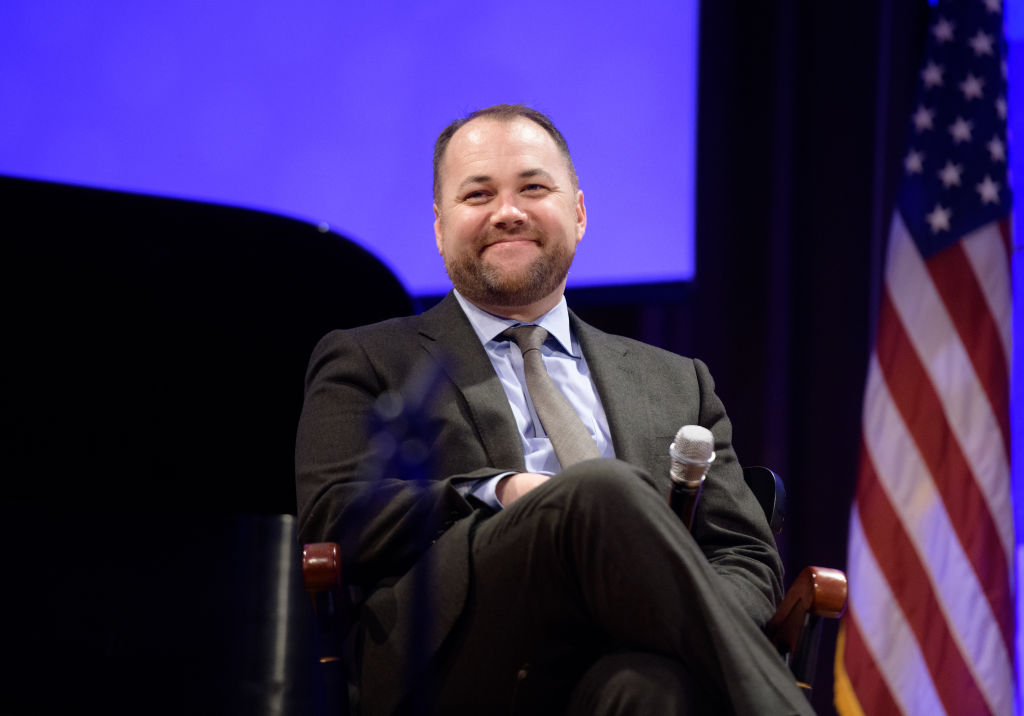 Getty Images
Corey Johnson, 36, Manhattan, Speaker of the New York City Council 
What needs to happen is Donald Trump needs to give up on his racist wall and think about the people he's hurting with this unnecessary and misguided shutdown. If our President could put empathy over xenophobia for once, the government would be back up and running in no time.