Is Orange is the New Black over? News broke Wednesday night from cast members themselves that the seventh season of the prison "dramedy," slated to hit Netflix next year, will be the show's last and final chapter. 
"After seven seasons, it's time to be released from prison," OITNB creator Jenji Kohan said in a statement, via Deadline. "I will miss all the badass ladies of Litchfield and the incredible crew we've worked with. My heart is orange but fade to black."
The show premiered on Netflix in 2013 and became the streaming service's most-watched series by its sophomore season.
Orange is the New Black season 6 came out this past July. OITNB's Adrienne C. Moore, who plays Cindy "Black Cindy" Hayes, spoke to Metro before that season's release about Kohan's skillful way of writing depth into each character. 
"She allows the humor and comedy to come together, to disarm you and let you sit back in the story," Moore says.
"When we deliver these very profound, dramatic and gut-wrenching moments, or talk about topics we see on the news everyday, Jenji's masterful writing helps us deliver," the actress, 38, continues. "The comedy allows for the dramedy, or the drama, to be seamless."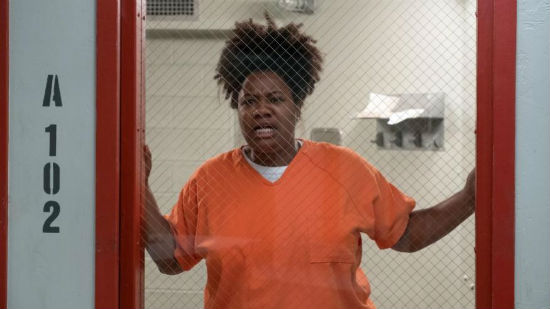 If you haven't watched the sixth go-around, documenting the Litchfield prisoners' lives in maximum security post season 5 riot, we won't spill the details — just know that the end is coming in 2019.
"We will be sad to say goodbye but we will definitely be going out on a high," Cindy Holland, Vice President of Original Content for Netflix, said in a statement. "We are grateful to Jenji Kohan and her groundbreaking vision; to her supremely talented team of writers and producers; and to a once-in-a-lifetime cast and crew for creating a truly special work of art that has inspired conversations and connected audiences around the world."
Is Orange is the New Black over? Hear it from the cast
Watch the cast of OITNB announce the beginning of the end:
Warning: This may make you cry. The Final Season, 2019. #OITNB pic.twitter.com/bUp2yY0aoK

— Orange Is the New… (@OITNB) October 17, 2018
Is Orange is the New Black over? It will be next year. Twitter responds
In response to the OITNB news, fans took to Twitter.
One wrote, "thank you for the most iconic tv show ever made. thank you for the laughs, thank you for the tears and thank you for showing us that love can go through it all, even prison. this show will never be forgotten."
"[S]o so thankful for the insanely talented and empowering women who make up this ensemble," another user tweeted. "[A]lways will love and appreciate this show, as it's one of the things that inspired me to come out, and now im living my truth FREELY!! orange for life."
"They MUST close up all storylines," a third said. "I hate when shows forget or don't bother finishing a story."
Aside from fans calling on relationships like "Nichorello" to happen, there were a lot of GIFs:
This gonna be me watching the last season ?? pic.twitter.com/ZT7lUUqs81

— уαнαιѕα (@_Aisaaax) October 17, 2018
I will miss you ? pic.twitter.com/5GPDJqzgW9

— OITNBrazil (@OITNBrazil) October 17, 2018
— northerndancer?? (@AmyInJetsLand) October 17, 2018
Is Orange is the New Black over? Almost. But the cast promises the final chapter will be one we'll never — and they mean never — forget.
The Orange Army is forever!

— Orange Is the New… (@OITNB) October 17, 2018