The Columbus Blue Jackets are on the verge of disaster as the futures of two of their stars, winger Artemi Panarin and goalie Sergei Bobrovsky look certain to not return to the team following the 2018-19 season. 
While we reported on Panarin's interest in the New York Rangers in free agency once he becomes a free agent in July 2019, the other New York team, the Islanders, should be keeping close tabs on Bobrovsky's situation in Columbus. 
According to the Athletics' Aaron Portzline, contract negotiations between the Blue Jackets and Bobrovsky have been basically non-existent this summer. The 29-year-old is set to hit free agency alongside Panarin next summer and the lack of activity in contract talks is not a good sign for Columbus.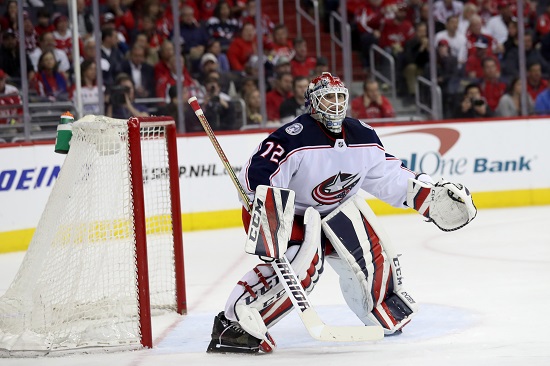 Bobrovsky has developed into one of the top goalies in hockey over the past six years. Since joining the Blue Jackets from the Philadelphia Flyers in 2013, the Russian has won a pair of Vezina Trophies as the league's top goalie while owning a sterling .923 save percentage and 2.37 goals-against average during that stretch. 
The idea of Bobrovsky shunning any sort of approaches from Blue Jackets management to sign him to an extension is only going to dump fuel on the fire that will be his market once he hits free agency or if Columbus puts him on the trade market. 
Regardless, he's a target the Islanders should be keeping an eye on. 
Why do the Islanders need Sergei Bobrovsky?
In no way do the Islanders have their goaltending situation solved right now. After the platoon of Jaroslav Halak and Thomas Greiss failed miserably last season behind the league's worst defense, Halak signed with the Bruins while Greiss is left to lick the wounds of a career-worst 2017-18 season. 
While the Islanders were in the market for a starting goalie this summer, which included the brief possibility of nabbing Montreal Canadiens netminder Carey Price at the 2018 NHL Draft, New York was able to sign former Buffalo Sabres goalie Robin Lehner to a one-year deal. 
The 27-year-old has only two years of starting experience under his belt, though he was able to put decent numbers on a very bad Sabres team. Since 2016, he's posted a .915 save percentage and 2.83 goals against average. 
Expectations are low around Long Island after the team lost John Tavares, but there is reason for hope with Lou Lamoriello coming in as president and hiring Stanley Cup winner Barry Trotz as the team's new head coach. 
With Lehner on a limited deal, Bobrovsky's availability could provide the Islanders with a true No. 1 goalie that can perform at an All-Star level next season and they will likely have the money to catch the attention of most free agents.