It's a new age for the New York Islanders after the arrivals of Lou Lamoriello, Barry Trotz and the departure of John Tavares. 
Naturally, the announcement that Adidas was allowing teams to bring back a third jersey created an opportune moment for the team to almost rebrand itself. 
The idea of a predominantly orange jersey or the reintroduction of the controversial fisherman logo gave a downtrodden fan base something to look forward to. 
However, it looks like the team's new third jersey is going to be much of the same, as designs have been leaked (h/t James Trotz):
PSA: I interrupt this College Football Saturday with the leaked #Isles third jersey. Anon source says this is the legit design. pic.twitter.com/5LIgrdMK7C

— James Trotz (@TwoTurtleDuffs) September 2, 2018
So much for a fresh design. 
Instead, the jersey is eerily similar to the Stadium Series uniforms worn by the team during the 2014-15 season.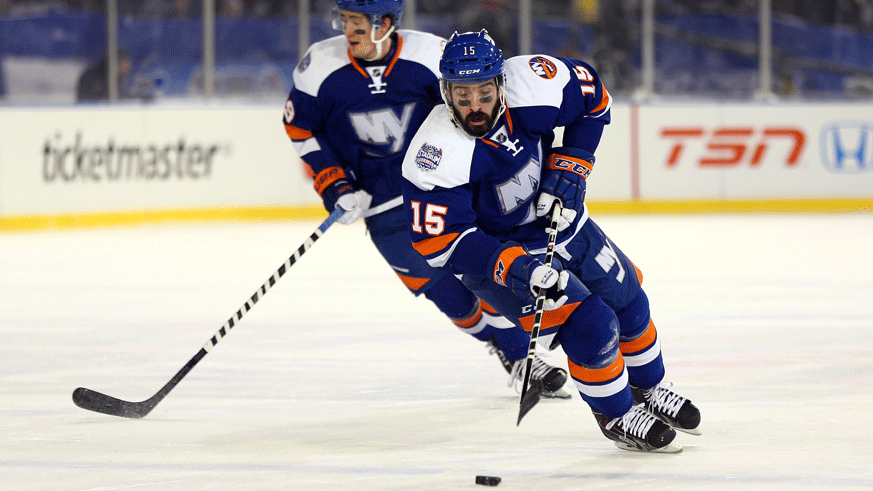 Needless to say, there have been some mixed reactions on Twitter:
Can't say I'm impressed with this leaked #Isles third jersey design. They had the opportunity to do something unique by going orange, but instead went with this generic Stadium Series lookalike.https://t.co/CVVK9KNzYT https://t.co/ZVm6WQGJOT

— Alex M. Silverman? (@AlexMSilverman) September 4, 2018
Every other team gets an awesome third jersey and we get this snooze fest ? #isles https://t.co/GzhKREUgYl

— Just Lou It (@Nick_Giordano) September 3, 2018
The third jersey really isn't even that bad. Y'all love to find something to complain about. #Isles

— Isles411? (@NYIslanders411) September 3, 2018
Welp, I was right. Islanders dropped the ball on their third jersey…… again

— Servy (@bserviss8229) September 2, 2018
If real @adidashockey finally cracked the code and gave the Islanders a good third jersey

— Craig Pritchard (@CraigJPritch) September 2, 2018