It's a sad fact that if you peel away the good intentions of most politicians, or people with any sort of power for that matter, it all eventually just boils down to an animalistic version of supply and demand. For most Americans, the Trump era is the first exposure to a leader who has only two aspirations: the cultivation of wealth and the endless pursuit of young women that makes them oblivious of their own mortality. While we have never had a president so brazenly transparent as Trump, many countries around the world have weathered corrupt autocrats who held their interests above those of the people they are supposed to govern. In Italian director Paolo Sorrentino's new film "Loro" ("Them"), he weaves together the story of a corrupt leader who was a precursor to our own commander in chief, media tycoon-turned-Italian president and political fixture Silvio Berlusconi.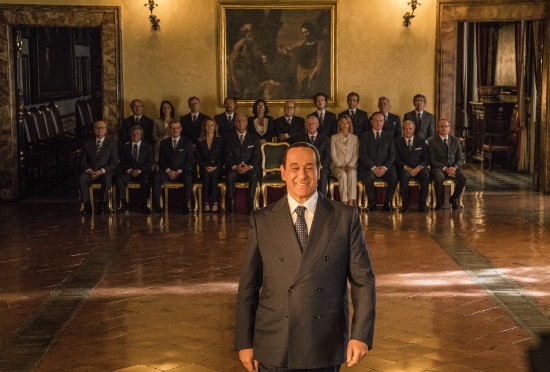 Toni Servillo as Silvio Berlusconi in Paolo Sorrentino's "Loro". Photo: Gianni Fiorito. 
Sorrentino — known stateside for his films "This Must Be the Place," "Youth" and the HBO series "The Young Pope" starring Jude Law — has made a name for himself in the world of cinema for his beautiful and hallucinatory work. The unique touch is present here as well, as he has made a long yet fast-moving epic that is on the pulse of the current moment. The film is split up into two acts. The first act follows a young and green-in-the-eyes businessman named Sergio Morra, played by Riccardo Scamarcio, who has built up a large stable of escorts he uses to "persuade" politicians into bending to his will on various issues. As he networks through coke-fueled parties at a rented villa in Sardinia, he makes plans to obtain close quarters with perhaps the most powerful ear in all of Italy, Berlusconi.     
Once the film has brought its focus to Berlusconi, played with slimy charm by Toni Servillo, you get a deep understanding of where all of this debauchery leads. We find Berlusconi, having just lost his election for a second term as president, lounging at his picturesque estate. His endless grounds are pornographic in their excessiveness with both a merry-go-round and a man-made volcano on the premises. Even though he is defeated and facing jail time for fraud he committed over years of shady deals, he is still impervious to shame. In one moment, he defends his choices to his grandson while stepping in what appears to be a big pile of animal droppings. When the young boy points this out, Berlusconi denies it and offers up an ethos that can be attributed to any powerful politician in battle with damning allegations from what they deem to be "fake news": He says with a smile, "The truth is the tone of your voice." 
As the film takes you into the psyche of the legendarily corrupt figure, Sorrentino shows the viewer just how easily men in power are bought.  If you dangle money in front of a senator, as with Berlusconi, they will flip to your liking. If you present the arm of a beautiful woman to a man of ample means, like Morra to the problematic president, they will go weak at the knees. It's almost scary how uncomplicated it all really is.   
Both the performances and Sorrentino's power as a storyteller are undeniable as "Loro" is bound to be considered a classic exploration on the greed that blinds us.  
Watch the trailer for "Loro" below…