Thinking warm thoughts is not the only way to keep the cold at bay this season. Here's how to make winter feel like summer in NYC.
The Amalfi Coast comes to you
Arriving just as winter starts to bite is a taste of the Italian seaside. Chefs Club's new guest restaurant is the Amalfi Coast's La Conca del Sogno, traveling from the fishing village of Nerano Bay to NoLiTa for a month-long residency. Their no-frills menu has been honed over 60 years of family traditions; executive chef Luca Fedele is making his pasta in-house for dishes like Fiori di Zucca (fried zucchini blossoms with ricotta and marinara), served with a list of coastal Italian wines. Dec. 3-Jan. 1, 2019, open Mon-Sat, 6-10:30 p.m., 275 Mulberry St., reservations on Resy, chefsclub.com
Meet the stars of the insect world
The American Museum of Natural History's annual Butterfly Conservatory brings over 130 species of the world's most beautiful insect to a humid paradise inside a tropical habitat you can walk right through. Watch them flutter — and even land on you! — as they flit between plants and blooms all around you. Through May 27, 2019, Central Park West and 79th Street, $23 (pay-what-you-wish for New Yorkers), amnh.org
Keep the tiki trend going
You don't need a plane ticket to escape to the islands. Tiki cocktails were the summer's biggest drink trend, but you haven't missed your chance to sip rummy drinks among authentic art, surf shack decor and genuine Caribbean expertise. A few of our favorites: the upscale Polynesian run by a self-proclaimed pirate, the seasonal tiki-meets-Christmas bar Sippin' Santa, and Williamsburg's cozy Trinidadian bar Clyde's.
Practice your retirement game
Get ready for those long summers in Florida at the Royal Palms Shuffleboard Club, whose 10 regulation-size courts courts are almost always packed. But that's okay, because there are tropical drinks, a rotating roster of food trucks, great music and board games to pass the time before your game. Don't forget to take a selfie in the incredible flamingo-themed bathroom. Courts are $40 and limited to one hour per party, 514 Union St., Brooklyn, must be 21+, royalpalmsbrooklyn.com
The year-round Winter Garden
Lower Manhattan has a Winter Garden where towering palm trees offer a tropical vibe all year. But Brookfield Place's Winter Garden is particularly magical thanks to its seasonal light display Luminaries, with 600 color-changing lanterns suspended from the glass ceiling. Make a wish at a special station to watch a light show, plus seasonal events like free performances and a holiday village where you can meet Santa. 230 Vesey St., free, bfplny.com
Unwind in a backyard sauna
There are great bath houses all over the city, but only one lets you enjoy the ambiance of winter at the same time. Warm up the Finnish way at the new HotBox Mobile Sauna in the backyard of Bushwick concert venue Nowadays, where you and up to nine friends can luxuriate in a balmy 180 degrees. Whether you also open the door to let in some freezing air to "help with circulation," as the Finns claim, is up to you. Through at least the end of December, $40 per person for 90-minute sessions, 56-06 Cooper Ave., Brooklyn, comegethot.com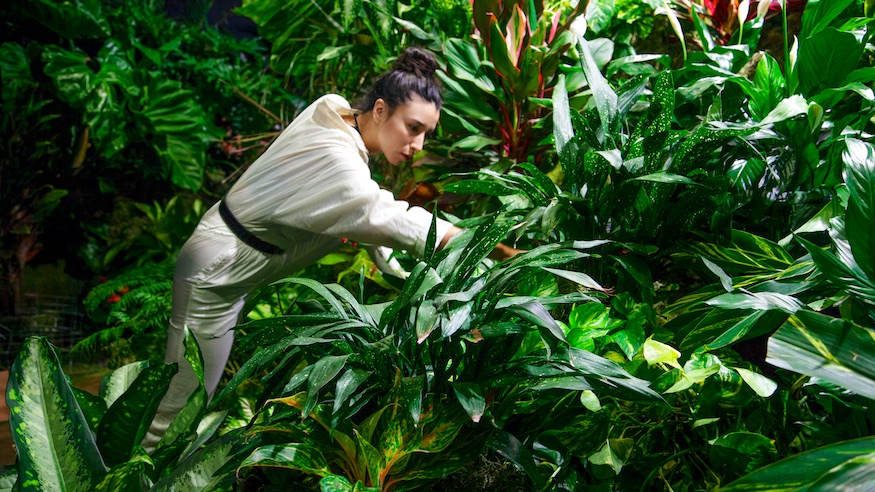 An indoor garden of the world
Take a zen break without leaving the city in South Village's Cadillac Gallery. The pop-up art space has been transformed into an indoor garden called Summer in Winter, featuring flowers and plants from all seven continents with a winding path of green grass. Best of all, it's free to visit. Through Jan. 16, 2019, Mon-Fri 8 a.m.-7 p.m., Sat-Sun 10 a.m.-5 p.m., 330 Hudson St.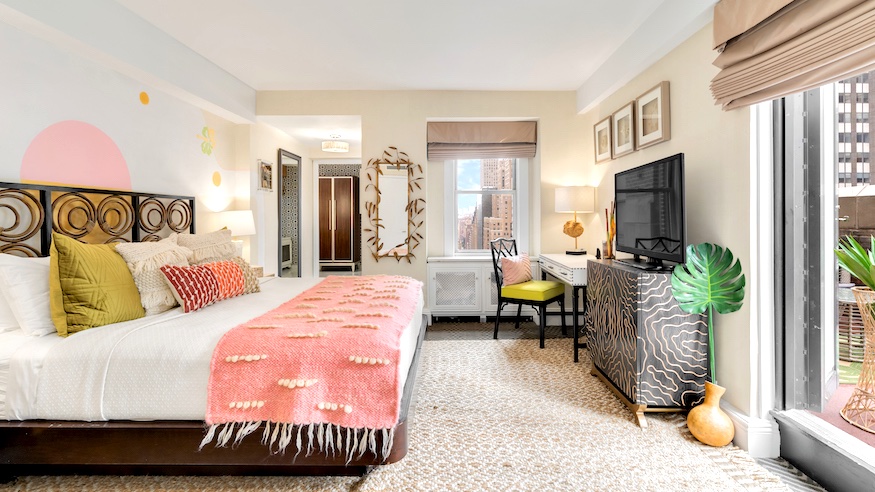 Spend a night in Hawaii
Get away to the Aloha State anytime at The Lexington Hotel, where the Hawaiian Room's hula dancers and musicians touched off a Polynesian craze from 1937-1966. The spirit of that lounge lives on in the hotel's Hawaiian Room suite, filled with island-inspired decor like woven palm leaf fans, an authentic gourd drum and conch shell horn, along with vintage tiki glasses and barware. 511 Lexington Ave., for reservations 212-755-4400