The Ivanka Trump fashion company has been without its namesake leader since her father became president. And now, it's reportedy shutting down.
Trump first distanced herself from her brand after the election — but even before this, consumers started boycotting the label in response to the infamous Access Hollywood "grab them by the p***y" tape. Conveniently, the nationwide boycott was called the #GrabYourWallet movement.
In a statement released in November 2016, the Ivanka Trump fashion company announced that Trump was getting her own social media handles (instead of using the company's feeds as her own).
"Our company's mission is not political—it never was and it never will be—however, Ivanka, personally, has an increased opportunity to advocate for women and be a positive force for change," the Ivanka Trump fashion brand wrote in a statement.
"As a private citizen, with full awareness of her heightened visibility, she will broaden her efforts to take a stance on issues of critical importance to American women and families," the statement continued. "Meanwhile, our team will continue working to inspire and empower women to create the lives they want to live through solution-oriented product and inspiring content on IvankaTrump.com and across social media."
Then, in January 2017, Trump announced that she was stepping down from her role as president of the brand.
Since her departure, brands like Nordstrom, Neiman Marcus and Burlington Coat Factory dropped Trump's clothing line from their stores due to "poor performance" (most likely attributable to the #GrabYourWallet boycott).
Trump continued to face accusations that she was exploiting her place in the White House to further the success of her line. For instance, back in April, the president announced that the Ivanka Trump fashion company was exempt from the $150 billion of new tariffs he proposed.
Is the Ivanka Trump fashion company shutting down?
Yes — and insider sources say Trump's absence has taken a toll on the company.
"It's just never recovered since she stepped away from the company," one told Page Six. Employees are reportedly being laid off, and the headquarters will close down "ASAP."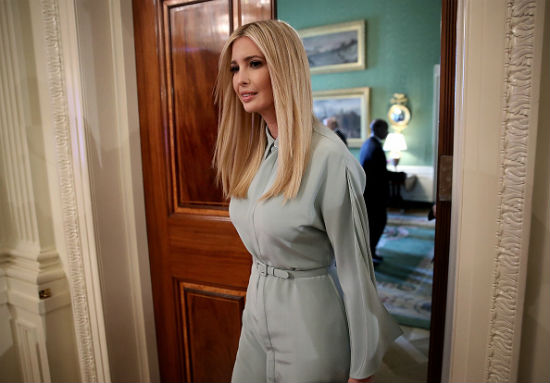 "When we first started this brand, no one could have predicted the success that we would achieve. After 17 months in Washington, I do not know when or if I will ever return to the business, but I do know that my focus for the foreseeable future will be the work I am doing here in Washington, so making this decision now is the only fair outcome for my team and partners," Trump told CNN this afternoon.
"I am beyond grateful for the work of our incredible team who has inspired so many women; each other and myself included," she continued in regards to the Ivanka Trump fashion brand. "While we will not continue our mission together, I know that each of them will thrive in their next chapter."
Back when Trump started distancing herself from her company, The Cut wrote, "Ivanka Trump divorced Ivanka Trump." Now, that's happening for good.