America has grown up with Jack Osbourne. The son of the rock and roll legend Ozzy Osbourne and TV personality Sharon Osbourne first came into our lives — along with his sister Kelly — in one of the first runaway success reality shows for MTV, The Osbournes, back in the early 2000's.
Since the show went off the air in 2005, Jack Osbourne has lived a full life including numerous thrill seeking adrenaline junkie themed television programs and even a foray into Muay Thai boxing. But Jack received some intensely startling news back in 2012 when he was diagnosed with Multiple Sclerosis (MS). Now, Osbourne getting to the bottom of it with his web series You Don't Know Jack About MS to help people learn more about the disease and educate himself more in the process. Metro caught up with Jack Osbourne to talk about his journey through making this web series.  
Jack Osbourne opens up about his new web series researching MS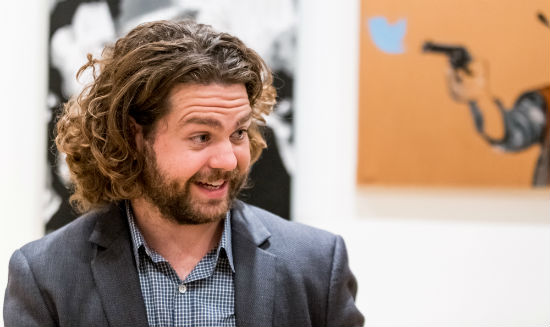 Jack Osbourne. Photo Credit: Getty Images 
What has your journey been like since your diagnosis of MS?
Jack Osbourne: You know It's funny, I've actually found that doing "You Don't Know Jack" has been somewhat relatively healing in that it's forced me to constantly be involved in the MS community and the MS world and really have it be in the forefront, or pretty close to, my everyday. I know a lot of times when you get bad news like an MS diagnosis some people just put their head in the sand and want  to ignore it. I have a tendency to do that unless I'm forced otherwise. It's been really good. It's been kind of a part of the understanding and acceptance process for me.
How did you first find out you were suffering from MS?
Jack Osbourne: About 18 months before I got diagnosed my legs went numb for about somewhere between three and six months. Then they got better and then, like I said, 18 months later I lost vision in my right eye and that's what prompted me to go to the doctor. At first they thought it was an aneurysm. Then they kind of dove a little bit deeper.
It takes a lot of resilience to show this kind of interest in a health issue that you are currently dealing with — has your interest in the disease and newfound understanding helped you to deal with it in a constructive way?
Jack Osbourne: You Don't Know Jack about MS was really born out of my own desire to have a website when I got diagnosed to have that one-stop shop in early diagnosis to be like 'hey, what does MS look like, what does it do, and how can I see how people are living with MS currently. I was really fortunate when the partnership with Teva Neuroscience came to be they were kind of like "hey, what do you wanna do? What is this going to look like?"  They were really collaborative in bringing this decision to life. The question I always ask myself is: what would i have liked to have seen when I got diagnosed in April of 2012 when I got diagnosed? That's the way we like to operate. It's a whole team who really pulls all sorts of resources together. Because of the partnership, we're able to be in the forefront if the most kind of fact based information. We tend to stray away from the stuff that we don't have hard evidence for. There's a lot of that. I've seen websites where they'll be like "Go get stung by bees. That helps!" Like, what? We trim a lot of the fluff and we keep it real simple and clean. Like I said, it's something that I would have enjoyed.
What has been your biggest take away from working on this show? What should people know about MS?
Jack Osbourne: Knowledge is power. For me, I had heard of MS. Most people have. But, most people don't know what MS is. People understand what cancer is. When someone says "oh, I have toe cancer," you have a decent idea of that the cancerous cells are attacking the body, or whatever. People know that now because people have been educated on it. There's a huge amount of misinformation regarding what MS is and what it does to the body. For me, I would encourage people to educate themselves on it and understand what someone living with MS might be experiencing. Because it varies so much.
What has been your biggest comfort in this whole journey? I know you used to be a big Muay Thai boxing enthusiast, have you kept up with exercise?
Jack Osbourne: Absolutely. I dove really heavy into being as physically active as possible. Because I'm able to right now. I'm really fortunate to where my treatment plan on I'm on works super well and I'm pretty high-functioning. I do a lot of crossfit. I surf a lot. It's weird, because not everyone is able to do that. But, I'm just really lucky to where I can. So there's very few things I can't do. My biggest thing with being physically active is that when i get tired I lose balance. That's the one thing I notice.
I'm sure this has made you more aware of your limitations now.
Jack Osbourne: Totally. I like to push things so it's nice to know that there's ceiling somewhere and you've got to be careful not to hit it to hard. Because things can get complicated when that happens.
How did your family take the news after you had been diagnosed? Have they been supportive since?
Jack Osbourne: They've been really supportive the whole way through. I think my mom initially was more emotional because of her own preconceived kind of misunderstandings of what MS is. By in large, they sometimes forget that I have it. I have a really bad tendency to make jokes a lot to break the ice. So I make some, sometimes, not tasteful jokes at times just to make them uncomfortable in a way of normalizing it.