"Would you mind if we jump in right there?" I asked this question right as I walked into the room to interview writer and director Rick Alverson and Jeff Goldblum about their mind bending new film, "The Mountain".  The two were eating lunch in the middle of what seemed to be a long day of press interviews and discussing why, perhaps, everyday Americans choose to simply not take part in our democracy by not casting their votes. 
"I say this a lot, the reason why people in America don't vote is that they're constantly pacified and satisfied," muses Alverson. "They get off work after a hard day and instead of engaging in the world as some sort of nourishment they're just intoxicated by something that's disposable and they just glaze over." 
Given that we were about to discuss a film where the character that Goldblum plays, Dr. Wallace Fiennes, is a traveling physician who performs lobotomies and shock treatment to sterilize radical thoughts within patients all across the States during the good old days of the 1950's, I figured the parallel was too great to pass up. I ask Alverson on his thoughts if that is a metaphor that fits. 
"I find metaphors in movies and reading into movies to be problematic," says Alverson. "It's very convenient and we're conditioned to do it. Movies since their inception, how they were different from literature, is that they are experiential. You're not supposed to say, that's what that means and that's what that means. It's supposed to be for when we wake up, even in our Freudian ways trying to deconstruct dreams, they're first and foremost experiential and visceral. They change us and they inform us and we learn that way. That's what cinema is supposed to do. That's why it's different from a book. It's more convenient for us to read it and say 'I get it' or I like it or I don't like it and walk out the door unburdened by the thing. I wonder where the value is now? It's almost better to read a book… We create images"
"That's the very clear impact this movie is intended to have… To wake them up, get them involved, get them engaged, and get them, like Martha Graham used to say, divinely dissatisfied," – Jeff Goldblum.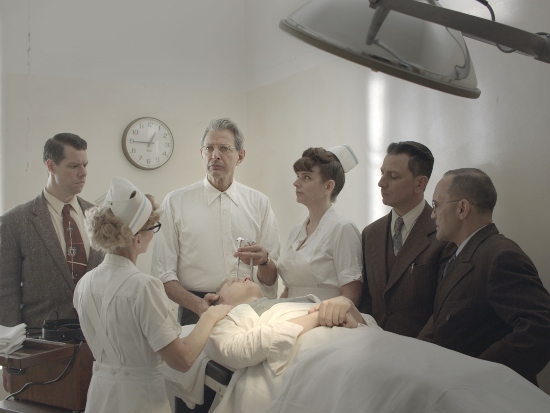 Jeff Goldblum as Dr. Wallace Fiennes in "The Mountain" by Rick Alverson. Photo: Kino Lorber
Alverson is no stranger to making difficult narratives in his films that could lead to audiences making their own conclusions on what they had seen. In  "The Mountain", he believes his desired effect was a little more out in the open for viewers to grasp.
"In my movies I try to make the metaphors dysfunctional. They're there! There is a blatant almost silly metaphor in corollary between the lobotomy between pacification of populations through disposable entertainment [in "The Mountain"]. I'm not saying all of that is bad, but when you have industries and societies that push the difficult and challenging aside as not worthy of being consumed, as being problematic as not be nutritious, you wonder what's happening there." 
All of this deep discussion about the film has Goldblum at the edge of his seat and nodding in excited agreement. "That's the very clear impact this movie is intended to have," the veteran actor says. "To wake them up, get them involved, get them engaged, and get them, like Martha Graham used to say, divinely dissatisfied".
According to Goldblum, films like Alverson's past two features, "The Comedy" and especially "Entertainment", are the kinds of projects he is most interested in pursuing these days. Films that ask big existential and internal questions without putting a bow on their conclusions. 
"We met and I loved what he was saying and loved him," he says of first becoming aware of and then working on this film with Alverson. "I kept watching 'Entertainment' over and over again. I thought it was hilarious. I loved it. That's the main thing that I'm looking for now, the director. Script and story are nice, but that's what you look for in a director, to make a good movie. My taste, is something surprising and something different and something with politics that I'm in concert with. That's meant to disturb, disrupt, shake up, and otherwise appall and outrage."     
The film does exactly that, as we follow the main character Andy, played with a quiet intensity by Tye Sheridan, traveling the country as Dr. Fiennes personal photographer after the untimely passing of his father. Andy leaves behind the ice skating rink that his father operated in order to go from hospital to hospital, rolling the dice on which ones will allow them to perform these, now-deemed, gruesome procedures on patients that simply exhibit eccentricites and desires that are more commonly accepted today. While Andy sees the work of Dr. Fiennes, he tries his best to keep his secret desires as close to the vest as he can. Alverson never chooses to let the tension simmer to its boiling point until the very end, and at that point viewers will most likely need a decompression drink at the closest bar to discuss the conclusion. 
The central theme of "The Mountain" can be argued is the need for the old ways dying to make way for the new. But do Alverson and Goldblum believe we are better off now than we were when the film takes place? Are we more accepting of difficult emotions and opposing thoughts?
"We're all living in little halls of mirrors," says Alverson. "Unfortunately, we're more isolated from outside influence and the concept of 'an array of others' now than we were in 1990. Because we crave these little bubbles of validation. We're very angry, left or right, if somebody shows us something we feel is wrong or different. It's a strange mode. So I think this idea that we believe in the boundless potential and Utopia, I was charmed by Obama, but I do think that we are seeing the dark side of a fantasy that we live in a perfectable world. It is not! We need to deal with our limitations that's what makes life beautiful. That's what forms the contours of your hand. We want to say everything is possible, and it's not possible… We are pushing at the seams of the possibilities and the capacities of the Earth because of our dreams and our inability to look at the realities, limitations and beautiful finite."        
This conversation makes Goldblum think of the arguments made by famous historian Yuval Noah Harari, such as "Sapiens" and "Home Deus", where he discusses the detriment creating these fantasy endings when they are unrealistic in almost every aspect of life. 
"He talks about the major religion of the last century, which is 'Humanism'," Goldblum explains, "It's a made up fantasy where the customer is always right, beauty is in the eye of the beholder, and the voter knows best. And if you look into your deepest heart, there is something special about the human being. The human being is divine, not because of something divine, but just because of the way we are possessed of something very special. So if you look in your deepest heart and you listen to  yourself, all movies and all stories tell us, we'll come up with a happy answer. The life sciences, he says, are certainly not true. We're not even individuals. There's no free will. The choices we make happen because of evolutionary determinism and something random. And all that must go 'poof' also."       
"The Mountain" is currently screening in select theaters. 
Check out the trailer for "The Mountain" below.