The glamour of air travel finally has a scheduled arrival: May 15, 2019, the opening date of the already iconic TWA Hotel at JFK Airport that promises a return to the friendly skies right here on the ground.
One of the most anticipated hotel openings of 2019, the TWA Hotel is already iconic for its '50s-era good looks and recommisioning a classic Trans World Airlines plane as a cocktail lounge. Reservations open on Valentine's Day, Feb. 14 at noon, so save the date transit lovers and bookmark twahotel.com.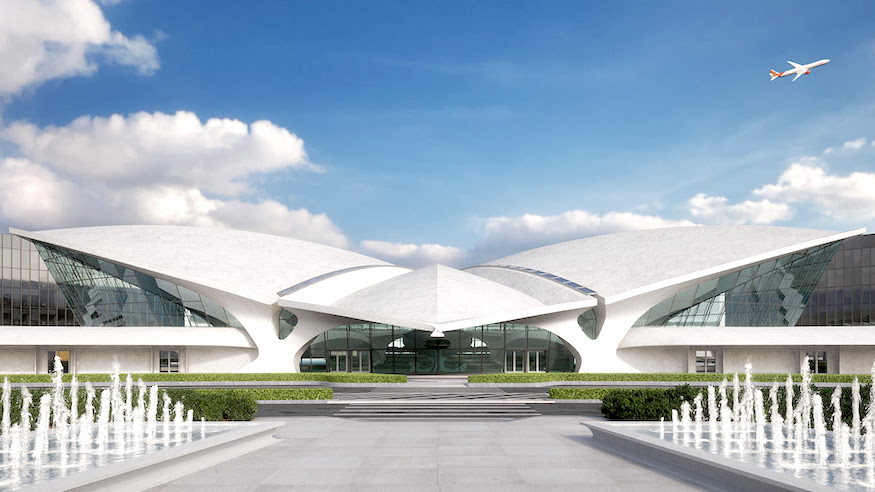 What's inside the TWA Hotel
The TWA Hotel is being built inside of the original TWA Flight Center terminal, designed in 1962 by neo-futurist architect Eero Saarinen, who also created the Gateway Arch in St. Louis. With its wing-shaped design, red carpeted lobby and massive windows to take in the bustle of the airport, the terminal was granted landmark status in 1994.
An extensive renovation has turned it into the lobby of the TWA Hotel. The 512 guest rooms are in an entirely new building and designed in mid-century modern style. You'll find glam touches like Hollywood-style vanities as well as practical ones like windows made with seven-layer glass.
Business travelers will find themselves competing with Instagrammers and magazine photoshoots for rooms, which start at $249 per night. Travelers will also be able to reserve rooms by the hour to make layovers more comfortable.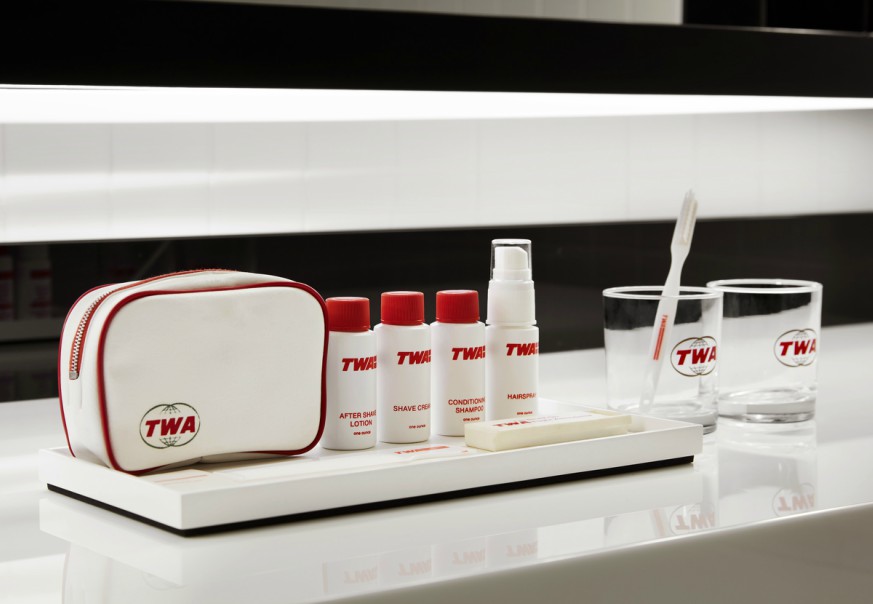 TWA Hotel amenities
Guests looking to burn off some of the less-than-glamorous aspects of air travel have a 10,000-square-foot-gym and a rooftop pool with an observation deck at their disposal.
Nods to the hotel's history will be everywhere, including a Jet Age museum with displays of vintage memorabilia from Trans World Airlines, which operated from 1926 to 2001.
For conventions and conferences, reservations are already open for the hotel's 50,000 square feet of event and ballroom spaces.
While John F. Kennedy Airport isn't known for its convenient location, you won't have to travel far for great food. Among the six on-site restaurants is Paris Café, overseen by chef Jean-George Vongerichten. Intelligentsia Coffee will operate several cafes and carts throughout the TWA Hotel.
For after-dinner drinks — or a pre-flight cocktail, we won't judge — the hotel has eight bars, including a decommissioned 1958 Lockheed Constellation plane (named Connie) that's been tranformed into a cocktail lounge.
The TWA Hotel is a project of the New York-based firm MCR and Morse Development, which operates hotels in 67 cities including The High Line Hotel.