It has become clear during this installment of a whacky NBA offseason that Jimmy Butler does not want to stay in Minnesota with the Timberwolves for too much longer. It obviously explains why he turned down a four-year contract offer that was worth over $100 million. 
The 28-year-old shooting guard has done this before, turning down a $44 million deal from the Chicago Bulls in 2014-15, deciding to bet on himself in the market to get a bigger contract. It worked out as he signed a $90 million deal the next summer before being dealt to Minnesota. 
Butler is one of the better natural scorers in the game, averaging 23.1 points per game over the past two seasons. He was able to average more than 22 points per night last season, his first with the Timberwolves, despite sharing the floor with star big man Karl-Anthony Towns.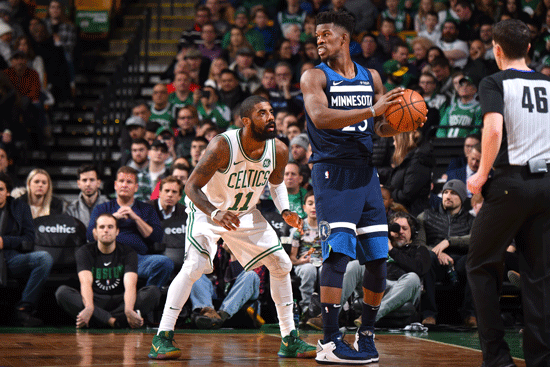 Playing in a loaded Western Conference alongside KAT doesn't seem to be enough to keep Butler up North though. 
Sports Insights released its odds on where Butler will be playing come opening night this fall and the Timberwolves aren't exactly overwhelming favorites:
#NBA Jimmy Butler's 1st regular season game of next year:#TWolves -225#Knicks +450#Nets +800#76ers +1200#Nuggets +1200#Spurs +1200#Celtics +1400#Lakers +1400#Clippers +1400#Pacers +1400#Bulls +2500#Warriors +2500

Odds via Bet Online https://t.co/ni3pEYBRac pic.twitter.com/iUsuqCU2cc

— Sports Insights (@SportsInsights) July 20, 2018
Sitting closely behind Minnesota is the New York Knicks, a franchise that has been nothing short of mediocre for the past 20 years or so, which obviously makes one wonder why he'd leave a promising Timberwolves team for a struggling franchise in a big market.
Butler has a player option next season though, which means the earliest he can become a free agent is the summer of 2019. The only way he would make his way to New York come this October would be through a trade.
Why would Jimmy Butler come to the Knicks?
There could be the development of a super team in the making at Madison Square Garden.
Recently on Bulls Talk Podcast (h/t Danny Abriano, SNY.tv), Mark Schanowski of NBC Sports Chicago was just the latest to suggest that Butler wants to team up with Boston Celtics point guard Kyrie Irving. However, Irving might not be staying in Boston for long. 
The former Cavaliers point guard has already stated that he is not looking to talk about a contract extension with the Celtics this offseason, meaning he too can get out of his contract thanks to a player option following the 2018-19 season. 
Irving, who grew up just outside of New York City in New Jersey, has mentioned that he wants to play with Kristaps Porzingis. 
The only way that is happening is if he signs with the Knicks next summer. His arrival would likely create a package acquisition as Butler would not be too far behind. 
It might be the only way the Knicks could get Butler though as they lack the NBA-ready talent needed to acquire him via trade unless they were willing to give up draft picks and a young talent like Frank Ntilikina or, less likely, Kevin Knox.