We're still dodging those rainshowers that should've gone out with April, but it's game face time, New York. This city isn't waiting for the official start of summer on June 22 to kick its events schedule into gear. Memorial Day threw down the gauntlet, and now it's time to get started with our guide to the best June events. 
June 1-3: Scooper Bowl
After 35 years, Boston's ice cream fundraiser is making the leap to New York City with three days of all-you-can-eat treats from some of the biggest names in the frozen dessert business. There will be açai frozen sorbet from Sambazon, vegan ice cream from DF Mavens, a taste of upstate NY from Adirondack Creamery, plus flavors from Haagen-Dazs, Ben & Jerry's, Big Gay Ice Cream and more. $25, noon-9 p.m., Bryant Park's Fountain Terrace (Sixth Avenue & 41st Street)
June 3: Bushwick Collective Block Party
More than 30 of the top graffiti and street artists in the world come together in NYC's best open-air art gallery for a day of creating new works. You've got a front-row seat to all the action, along with music by Busta Rhymes, Cam'ron and more, plus a Modelo beer garden and some rad face painting for kids. Free, 11 a.m.-7 p.m., 7 Saint Nicholas Ave., Brooklyn
June 3: Veuve Clicquot Polo Classic
Forget pizza in the park and experience the most luxe picnic of the year. Neil Patrick Harris is your host for the 10th annual Veuve Clicquot Polo Classic, with a concert by Alicia Keys. Enjoy the festivities while sipping the brand's new Rich Rosé champagne meant to be served over ice. $150+, 11 a.m.-6 p.m., Liberty State Park, New Jersey
June 3-4: Greenpoint Open Studios
This is your one chance all year for a behind-the-canvas peek inside the studios of artists and designers in Greenpoint. Observe in-progress works of paintings, sculptures, film, photography, textiles, ceramics and more by artists just starting out as well as established names. Download the map at greenpointopenstudios.com. 
June 5: Taste of Times Square
You won't have to wonder where to eat in the Theater District ever again after this lively street fair with grub from more than 40 restaurants all around Times Square, accompanied by live performances (of course). Admission is free, while dishes range from $2-$6. 5-9 p.m., 46th Street between Broadway and 10th Avenue
June 8: Atlas Obscura LIVE: Sin
Rulebreakers, it's time to learn a few new tricks. Join the social explorers of Atlas Obscura for a live variety show all about sin — big, small, historic and everything in between — featuring scholars, comedians, musicians and other special guests all sharing their stories about enjoying the more scandalous pleasures of life. $15, 8 p.m., Union Hall, 702 Union St.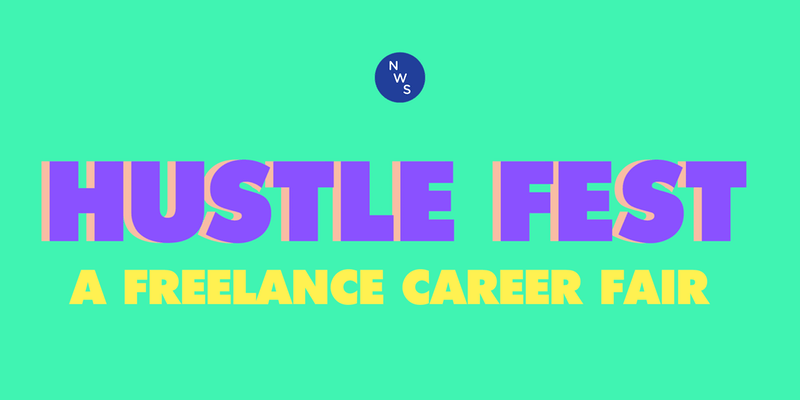 June 10: Hustle Fest: A Freelance Career Fair
Thinking of ditching your 9-to-5? Learn how to master the challenges of the freelance scene at this first-ever festival, with a day of workshops like Personal Branding for Freelance Unicorns and From Order-Taker to Bo$$, then wrap with an industry happy hour. $25, noon-7 p.m., New Women Space, 188 Woodpoint Rd.
June 11: Party on Wheels
Help support the train enthusiasts of tomorrow by riding vintage trains at the New York Transit Museum's annual fundraiser for its educational programs. This family-friendly party starts with breakfast and birthday cake, followed by crafts and dancing, photo ops in the conductor cab and rides on the museum's 100-year-old Lo-V subway cars, which left service in 1925. 9-11 a.m., corner of Boerum Place and Schermerhorn Street, Downtown Brooklyn
June 13: Museum Mile
The Upper East Side's biggest block party of the year closes down Fifth Avenue for a night of kid-friendly fun from 82nd to 105th streets, with tons of free entertainment, activities and free admission to all seven museums along the way, from the Guggenheim to El Museo del Barrio. 6-9 p.m. 
June 14: Trump Day
Impersonating Donald Trump has become something of a genre unto itself among comedians. Bob DiBuono impersonated our orange overlord on "The Nightly Show," and now he's bringing a new act, co-starring some funny people in their own right like John Fugelsang and Dion Flynn. $20, 9:30 p.m., Caroline's on Broadway, 1626 Broadway
June 16-17: Lust
There's an art to intimacy, the slow build of pleasure in another's company — something we could all use a reminder of in our instant gratification world. Abby Hertz's Lust party comes to Lot 45 beginning with IT an erotic dinner party of eight courses all served off naked bodies and hand fed to you. The party doesn't stop there; next up is an interactive art installations and live music, which you can enjoy from a cuddle puddle, in a dungeon or anything else lurking in your lustful heart (short of actual sex). 7 p.m.-3 a.m., 411 Troutman St., Brooklyn
June 17: Mermaid Parade
Despite some rough financial waters, Coney Island's spectacular parade of all that is beautiful, bearded and proudly freaky under the sea comes up on dry land for its 35th year, led by Debbie Harry and Chris Stein of Blondie. 1 p.m., parade starts at West 21st Street and Surf Avenue
June 19: "Big Trouble in Little China"
John Carpenter's cult classic (he did the soundtrack, too!) is back on the big screen at Alamo Drafthouse Brooklyn so everyone can enjoy the absurdity of Kurt Russell and Dennis Dun trying to survive a day of monsters and sorcery in San Francisco's Chinatown. This screening also benefits the Arab American Family Support Center, and includes a free "Big Trouble in Little China" comic for all attendees. $12, 9:30 p.m., 445 Albee Square W., Downtown Brooklyn
June 20: Night at the Museums
Lower Manhattan's tourist attractions seem to be growing by the day, from hot new restaurants to outdoor events all summer at the South Street Seaport. For one night a year, you can take a whirlwind tour of 15 cultural and historical institutions — all for free. Learn how we build soaring structures at the Skyscraper Museum, stand where George Washington was sworn in as our first president inside Federal Hall and meet the original Americans at the National Museum of the American Indian. 4-8 p.m., mjhnyc.org
June 21: Pool Party at the McCarren
You'll have to act fast when tickets go on sale to this epic pool party on June 18 — over 5,000 people are interested in a spot on the McCarren's glorious Hamptons-inspired pool deck for this annual party. Your $49 ticket gets you free prosecco, cocktails and hors d'oeuvres while a DJ sets the poolside vibe to ultra summer fun. 21+, 3:30-6 p.m., 160 N. 12th St.
June 23-25: Pride Island
Pier 26 has always hosted the grand finale of Pride Week, but this year it's grown into a three-day music-centric cultural hub that's meant to be all about celebration. Each day will feature a different genre of music, with separate ticket packages for men and women to enjoy Pride their way. $35+, 21+, West Street at N. Moore St.
June 24: Prospect Park Soiree
This glamorous dinner party for a good cause won't leave you eating instant ramen for the rest of the month. Celebrate the 150th anniversary of Prospect Park at this all-white DIY dinner party under the stars: You bring the food, wine, silverware and all your fabulous friends and tableware, they'll bring the DJ, lawn games, tables and chairs. Proceeds support the park's maintenance and programs. $40, must be 21+, 5 p.m., 95 Prospect Park W.
June 25: Taste the World
The Upper West Side's year-round outdoor flea market Grand Bazaar welcomes a globe-spanning food festival of 40 restaurants and brands bringing everything from Italian subs to Caribbean fruit ice pops. Free entry, 10 a.m.-5:30 p.m., 100 W. 77th St.
June 30: A Night at the Museum
Your chance at an adults-only sleepover with the dinosaurs and mummies of the American Museum of Natural History is back! Start the night at a champagne reception with live jazz music, then roam the kid-free halls until it's bedtime under the blue whale in the Milstein Hall of Ocean Life. $350, 6:30 p.m.- 9 a.m. July 1, Central Park West at 79th Street