Donald Trump Jr. and wife of 12 years Vanessa Trump called it quits two months ago. On March 15, Vanessa filed for divorce in Manhattan Supreme Court, and Page Six reported today that there seems to be a new Donald Trump Jr. girlfriend in the picture: Fox host Kimberly Guilfoyle.
"Don Jr. and Kimberly are seeing each other, and are having a great time," one source told Page Six. "While he wants to respect the privacy of his family, he is getting divorced, and he enjoys Kimberly's company."
Here's everything to know about the rumored new Donald Trump Jr. girlfriend.
Kimberly Guilfoyle is 49 and grew up in San Francisco
Guilfoyle, 49, grew up in the Mission District of San Francisco and graduated from Mercy High School, an all-girls Catholic school.
Mercury News reports that Guilfoyle lost her mother, Mercedes, to leukemia when she was just 11 years old. Her father, Anthony, died of cancer in 2008.
She has a background in law
Guilfoyle, the potential Donald Trump Jr. girlfriend, graduated from the University of California, Davis, and received a Juris Doctorate from the University of San Francisco and Dublin's Trinity College, where she studied international law.
While in law school, she interned at the San Fancisco district attorney's office and went on to serve as an assistant district attorney in San Francisco and Los Angeles.
She used to be the first lady of San Francisco
Guilfoye married Gavin Newsom in 2001. Newsom, a Democrat, served as the mayor of San Francisco from 2004 to 2011, and he's now in his second term as Lieutenant Governor of California.
"Unfortunately, the demands of our respective careers have made it too difficult for us to continue as a married couple," Guilfoyle and Newsom began a joint statement in 2005. 
Guilfoyle reportedly moved to NYC shortly after their divorce to persue a career in television.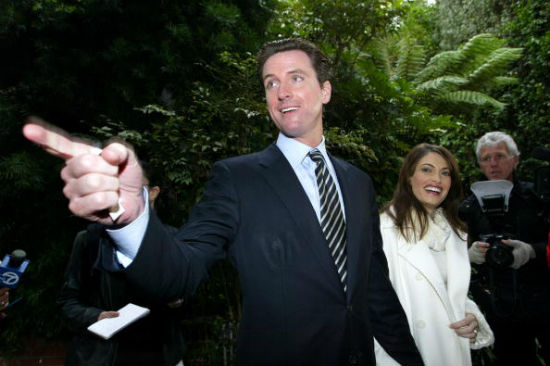 The rumored Donald Trump Jr. girlfriend used to model
During law school, Guilfoyle reportedly modeled for department stores such as Macy's and was also featured in a bridal magazine wearing Victoria's Secret lingerie. SF Gate reported that she made as much as $300 an hour modeling lingerie.
"Her portfolio is stunning," one SF Gate reporter wrote in a 2001 profile when Guilfoyle was still engaged to Newsom. "There are ads for soaps and sweaters and she is happy to modestly point to pictures that have hung in European art galleries. Yes, there are some lingerie photos among her work. Yes, the pictures, and Guilfoyle, are quite lovely. But none of these photos is any racier than anything printed in a Macy's ad in a family newspaper…"
She has a son with ex-husband Eric Villency
Guilfoye went on to marry Eric Villency, CEO of Villency Design Group, in 2006. The two share a son, Ronan, born in October of that year. They separated in 2009, then legally divorced.
Guilfoyle seems to be on good terms with the father of her son — posting in support of Villency's design career on Instagram.
Large side note: she was also romantically linked to Anthony Scaramucci, the former White House communications director, last year.
Larger side note: here's Donald Trump Jr. and his now-ex, Vanessa, posing for a photo with Guilfoyle and her ex, Villency, at an event back in 2008.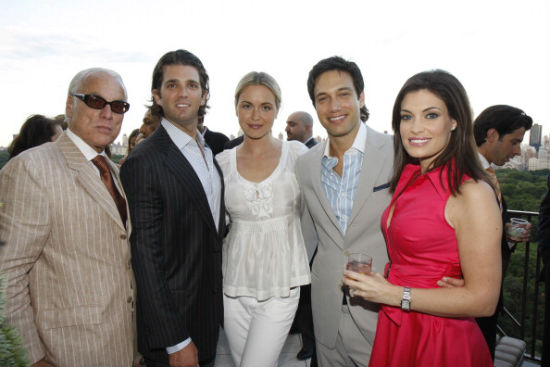 Kimberly Guilfoyle is a host on Fox
Guilfoyle is currently the co-host of Fox News Channel's The Five, which airs weekdays at 5:00 p.m. ET. According to her Fox bio, she started with the news channel in 2006 as a legal analyst and hosted The Lineup, a "crime-based" show. 
"On The Five, Guilfoyle is part of a roundtable ensemble of FNC personalities who discuss, debate and even debunk the hot news stories, controversies and issues of the day," her bio reads. "Additionally, she appears regularly on Hannity, among other programs."
Before Fox, she was a legal analyst for ABC News.
President Trump apparently bought — and read — her book
Guilfoyle, who backs the Trumps on her show and was considered for a press role in the Trump White House last year, released "Making the Case: How to Be Your Own Best Advocate" in 2015.
"Required reading 4 success in politics & life read @kimguilfoyle's book #MakingTheCase. Brilliant Advice!" Trump tweeted when the book was first published.
Required reading 4 success in politics & life read @kimguilfoyle's book #MakingTheCase. Brilliant Advice !
http://t.co/F64qOBW4zv

— Donald J. Trump (@realDonaldTrump) May 29, 2015
Guilfoyle, the new Donald Trump Jr. girlfriend according to reports, responded in 2017: "Thanks for buying my book President Trump!" This is currently pinned at the top of her Twitter profile.