The first step of the New York Knicks' rebuilding process takes place tonight as they are on the verge of acquiring a premier young talent at the 2019 NBA Draft. 
It all depends on where they're picking though. 
The 2019 NBA Draft Lottery from Chicago will decipher the order of the top-14 picks of the June selection process through a random drawing. The worse a team is, the better chance the ping-pong balls fall in their favor. 
However, the Knicks don't have as great a chance to nab the No. 1 pick of the draft despite having a league-worst 17-65 record this year. New rules have decreased the worst team in the league's chances of getting the No. 1 pick from 25-percent to just 14. 
Talk about bad timing. 
The Knicks will attempt to accrue as much good mojo as possible, regardless, as they've sent Patrick Ewing — the team's last No. 1 draft pick back in 1985 — to Chicago to represent the organization. 
Should they win that top selection, Duke superstar Zion Williamson will be theirs for the taking, providing New York with a generational talent to build a contender around. 
His presence could help make Madison Square Garden an even more attractive landing spot for marquee free agents such as Kevin Durant, Kawhi Leonard, Jimmy Butler, and Kyrie Irving this summer. It would make the Knicks catapult from basement dwellers to title contenders in a year: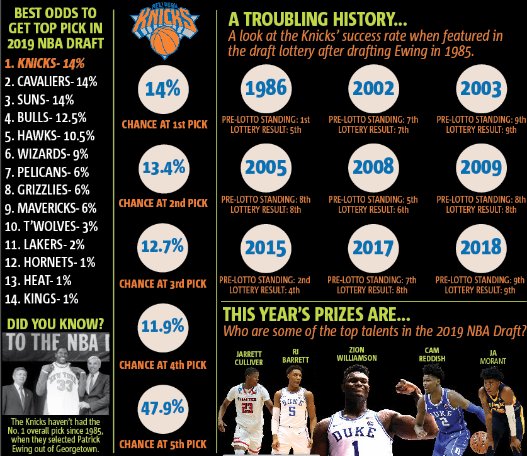 No pressure.