It was already a foregone conclusion that the New York Knicks would be in on the Kyrie Irving sweepstakes next summer, but now we have an idea of just how badly they want him. 
A. Sherrod Blakely of NBC Sports appeared on Bulls Talk Podcast on Thursday to provide some insight of the Knicks' desire to land Irving when the free agency begins in July of 2019:
"I've spoken with people within [the Knicks] organization. They have made it absolutely crystal clear to me that—if they had their pick of guys that are going to be in the free-agent market [next] summer—Kyrie would be their first, second, third and fourth choice."
Irving and the Knicks have been linked for more than a year now. 
When he initially requested a trade away from the Cleveland Cavaliers last summer, it was believed that he wanted to be dealt to the Knicks, his hometown team growing up.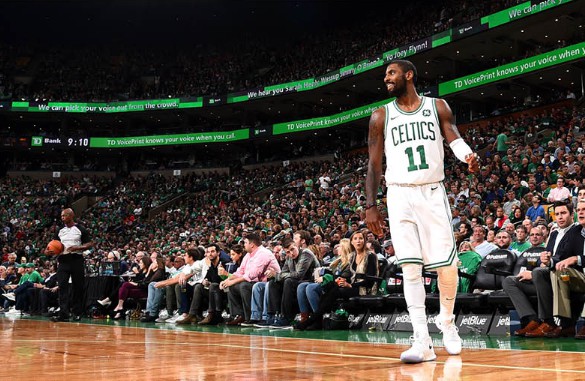 While he was traded to the Celtics to form what is expected to be the top team in the Eastern Conference this season, Irving still fueled speculation of him possibly joining the Knicks one day when he said that he would love to play along New York's star big man Kristaps Porzingis. 
Why would Kyrie Irving sign with the Knicks?
Given his standing with the Celtics right now as the franchise is poised to be a power in the East for a considerable amount of time after LeBron James moved out west to the Los Angeles Lakers, it was believed that he wouldn't be going anywhere any time soon. 
However, he made it known over the summer that he has no desire to sign an extension with the Celtics, which will make him an urestricted free agent following the 2018-19 season. 
The Knicks, who continue to move in the right direction under Steve Mills, Scott Perry and new head coach David Fizdale, are poised to have two max-salary slots available next summer.
That alone would make them major players in free agency. Add to the fact that the team could have a very promising young duo in Porzingis and rookie Kevin Knox and the Knicks could become a prime destination for free agents next summer. 
That's a quick way to wipe out two decades of mediocrity at Madison Square Garden.