Neither Ilan Hall nor Rahul Khopkar are textbook vegans — but in 2015 they started Ramen Hood, a hub for 100-percent vegan ramen in Downtown Los Angeles' Grand Central Market.
It's a 16-seat, 365 square-foot location, with two-thirds of the business being takeout, and has amassed a huge following over the last three years.
"I think it's a 50-50 split," Khopkar says of the vegan to non-vegan customer ratio. "It's about showing people who are not vegan that there can be really good vegan food that's filling, that's not just like a plate of steamed vegetables."
Now, Ramen Hood has made its way to SoHo for a three-month residency at Spring Street's Chefs Club Counter through January 19. Opening day was Monday, October 15.
Four out of five ramen bowls they serve feature a sunflower seed broth. For this, Khopkar says they create a vegan Dashi using "a couple different types of mushrooms," like shitakes. They pressure-cook sunflower seeds with white miso and blend this back into the soup.
Most vegan ramen places use some type of nut for the broth, Khopkar says, "but sunflower seeds actually have a good amount of fat and starchiness to create richness."
And, in a bizarre turn of events, you can order a vegan egg with runny "yoke" to make it a true ramen experience.
The egg white is typically made from unsweetened soy milk that they season with sea salt and set with agar, a seaweed extract. The yolk is nutritional yeast, beta-carotene for color, B vitamins and black salt for that "egg" taste, Khopkar says.
"It comes in two different parts. We make each one separately and assemble it together," he explains, admitting that in NYC, they've had a hard time finding a "truly unsweetened soy milk," so they've transitioned into making the egg white with their own broth. The yoke mix, he notes, is still the same recipe from L.A. 
Hall, who won Top Chef season 2, says that cook time for the vegan ramen is an hour, but it takes about three total between simmering the broth and letting the pressure dissipate enough to open up the industrial-sized pressure cooker they use.
Ramen Hood: What's on the menu?
There are five main dishes, all $12. Three — OG, garlic and spicy — are made with the sunflower seed broth and include a heavy serving of vegan noodles. You can also add the vegan egg for an extra $2.
Additionally, there's the "OG Rice Bowl," which has the same sunflower seed broth, and Smokey Ramen, featuring a smoked onion broth (served cold in L.A.).
Every ramen bowl comes with king oyster mushrooms, bean sprouts, scallions, chili threads and nori (seaweed).
You can customize your ramen with extras or request gluten-free rice noodles. And, you can even ask for a blend of garlic and spicy broth — Hall's favorite. Khopkar's go-to is the garlic.
Small plates on the menu — all $6 — include broccoli with a soy chili glaze, Banh Mi Poutine, spicy Ahi "tuna" crisps, their rendition of avocado toast (think rice cakes for the base) and a cucumber salad, shown below.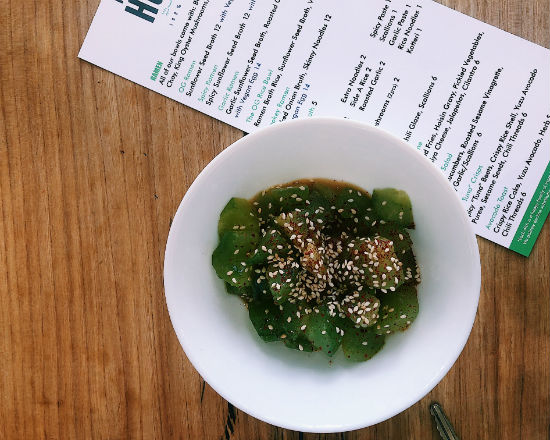 Ramen Hood might add new dishes as soon as next week, so follow their Instagram (@ramenhood) for these announcements.
What does this vegan ramen from Ramen Hood taste like?
I started off with the cucumber salad, served cold. It's somewhat tangy (probably from the ginger) and refreshing on the tongue — but it wasn't the star of my lunch. The main attraction was, of course, the OG Ramen, vegan egg included.
The sunflower seed broth, which is orange-yellow in color, tastes like savory miso with a faint spicy kick. There's not a hint of nutty flavor, something that Hall says would be more pronounced if they toasted the sunflower seeds for a longer period of time.
And, as one customer who tried the garlic version puts it, there's almost a "milky" texture to the broth.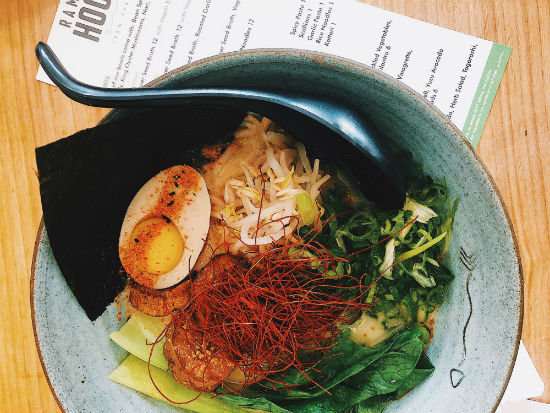 Now for the mysterious vegan egg. I'm happy to report that it's actually runny — one poke with your fork or chopstick and there's a yoke-like stream of yellow just begging to coat your vegan ramen. 
The egg itself isn't white — more of a grayish hue — and has the consistency of Jell-O.
The noodles are surprisingly springy; the mushrooms, thick-cut and meat-like. The sprouts add crunch and the chili threads bring some heat (the only ingredient I can live without is the nori, which does its job aesthetic-wise but doesn't wind up in my stomach).
Bottom line? It hits the spot.
Residencies at Chefs Club Counter are usually between two and six months. Though Ramen Hood is set to stay until mid-January, Hall says opening up shop permanently in the NYC area is something they'll consider once they can gauge how well this vegan ramen is received.
"We had a great first number," Hall tells me of Monday's opening. "And the second day was bigger. So every day we're going to grow until we just can't grow anymore. … It's a good test to see, theoretically, how we would do in a large city in a standalone space because right now we're in a big market [in L.A.]."
Not only is it, as the chefs say, a culinary challenge to make good vegan ramen — literally everything in regular ramen needs to be replaced — but it's also difficult to make vegan ramen good enough that non-vegans would eat it.
"We obviously want vegans to come here, but the goal is to make it all-encompassing [so] that people who are omnivores or big meat-eaters come here and eat this and feel satiated and not miss the meat aspect of it," Khopkar says.
He's spot-on. One New Yorker who tried the garlic option tells me that she "doesn't miss" the pork-based ramen she usually eats "at all."
When I ask about the name — because who wouldn't? — Khopkar admits there's no real story behind it. The idea actually, ironically, came from an ex-girlfriend.
Before they locked down Ramen Hood, they threw around names like Ramen Williams, Batman and Ramen and, my personal favorite, Hillary Ramen Clinton.
Visit Ramen Hood from 11:00 a.m. to 10:00 p.m. Mon. through Sun. at Chefs Club Counter, 62 Spring St, New York, NY 10012.