The New York Yankees bullpen became even more imposing on Tuesday night when the team traded for Baltimore Orioles All-Star closer Zach Britton for pitchers Dillon Tate, Josh Rogers and Cody Carroll. 
Britton now goes from the worst team in baseball with the Orioles, who are flirting with a record that is 50 games under .500, to one of the best teams in baseball with the Yankees that are in the thick of a playoff push. 
He was one of the best bullpen arms in baseball since 2014, accruing 139 saves over the past four-plus seasons. A bulk of them came from 2014-2016 when he put up campaigns of 37, 36 and a league-leading 47 two years ago while posting a minuscule 1.38 ERA in the process.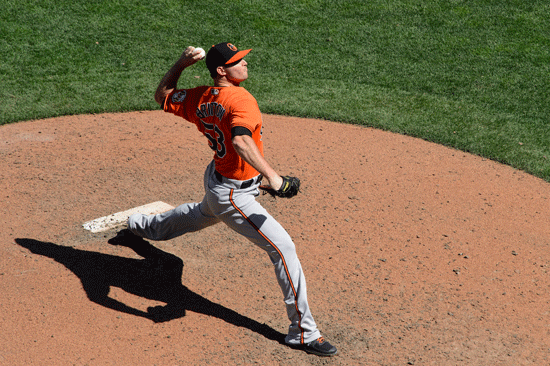 After a 15-save season in an injury-shortened 2017, Britton ruptured his Achilles during offseason workouts and didn't make his 2018 debut until June. He's 1-0 with a 3.45 ERA with four saves. 
He is not expected to take on the closer's role in New York but will likely be a set-up man for Aroldis Chapman. Chapman is once again having an All-Star year as one of the numerous invaluable arms that are found in the Yankees bullpen. 
New York already had the league's best bullpen ERA at 2.75. Now it's expected to get even better with the arrival of Britton. 
Just take a look at what the Yankees already had to relieve a questionable starting pitching staff:
Zach Britton joins a Yankees bullpen that looks like this
David Robertson: 44.1 IP, 7-3 W-L, 3.05 ERA, 55 K
Aroldis Chapman: 40.0 IP, 3-0 W-L, 26 SV, 2.03 ERA, 68 K
Dellin Betances: 42.1 IP, 1-3 W-L, 2.55 ERA, 74 K
Chad Green: 48.0 IP, 5-2 W-L, 2.63 ERA, 58 K
Jonathan Holder: 41.0 IP, 1-1 W-L, 1.76 ERA, 36 K
Adam Warren: 26.1 IP, 0-1 W-L, 2.39 ERA, 34 K
A.J. Cole: 20.2 IP, 2-0 W-L, 0.87 ERA, 26 K