Sure, you love your dog, but do you paint a Renaissance-style portrait love them? Or cast their likeness in a bronze sculpture love them? That's the level of canine commitment you'll find inside the American Kennel Club Museum of the Dog, a permanent fine art gallery dedicated to artwork all about dogs created by the people who love them.
Unlike recent pop-ups for dogs like the outdoor sculpture park dOGUMENTA and the Instagram gallery Human's Best Friend, the AKC Museum of the Dog is for humans only, opening Feb. 8 at 101 Park Ave. a block away from Grand Central.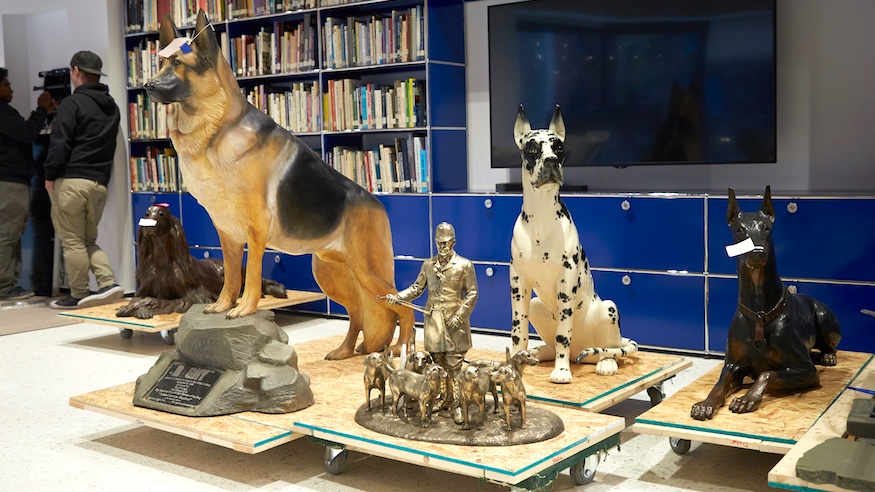 An in-progress installation at the Museum of the Dog. Credit: David Woo
Dedicated to showcasing works by famous dog artists including Sir Edwin Landseer, Maud Earl and Arthur Wardle, the two-story Museum of the Dog will be home to hundreds of paintings, drawings, watercolors, prints, sculptures, bronzes and porcelain figurines, as well as decorative objects and interactive displays showing our humans' long history with dogs.
There will be rotating exhibits too, the first of which will feature works from the AKC's collection called For the Love of All Things Dog. And because this is the Museum of the Dog, the tour guide couldn't be anyone but Arty, an app-based virtual dog who'll take visitors through the halls and interact with the exhibits.
"This museum is a beautiful ode to man's best friend, and we are thrilled to bring these pieces and exhibitions to new audiences," says Alan Fausel, the museum's executive director.
Meet your new BFF at the Museum of the Dog
There are, of course, several ways the museum also wants to help you make the right forever friend for your home and personality. Find Your Match is an interactive exhibit that takes your photo and matches it with an AKC-registered breed — they do say owners and their dogs look alike! There are also Meet the Breeds touchscreen tables where visitors can learn about the history, temperament and needs of all AKC-registered dogs.
This actually marks a return to the city for the Museum of the Dog. It first opened inside the New York Life Building in 1982, then moved to Missouri in 1987. The new museum is, a little ironically, housed in what's known as the Kalikow Building alongside the AKC's New York headquarters.
We'll have a first look inside the museum next week. Until then, for more information about the AKC Museum of the Dog, visit museumofthedog.org. And if you're looking for something to do with your dog, there's always Boris & Horton in the East Village.