The best things in life are free, but I suppose we can settle for a week of half-price lunches during Eats Week, a promotion by the Ritual app that lets you order and pay for meals before arriving at a restaurant. From Oct. 15-26, you can grab lunch deals of 50% off at hundreds of local restaurants by using the app, in the hopes of getting you out from behind your desk and discovering new spots in your neighborhood.
Nearly 2,500 restaurants in New York as well as Los Angeles, Chicago, Boston, Washington D.C., San Francisco, Houston and Minneapolis are taking part in the promotion through the Ritual app, which also had a similar lunch promo back in March as well as $1 cold brew coffees during the dog days of summer.
There is one catch: Ritual Eats Week deals are only available to iPhone users. While the Ritual app is available on iOS and Android, only iPhone users can take part because you must use Apple Pay to complete your purchase.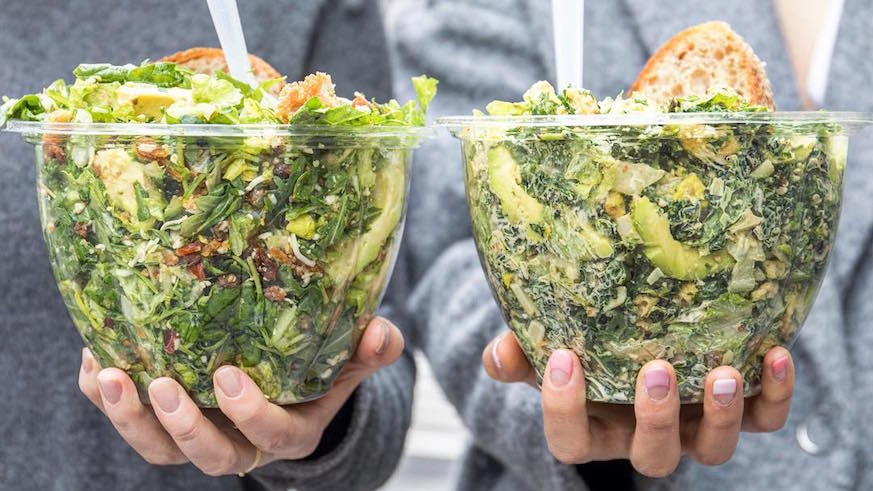 Here's a taste of the deals during the Ritual app's Eats Week 2018:
Chop't: Mexican Caesar Salad for $4.10 (50% off)
Northern Tiger: Black Pepper Braised Beef & Broccoli for $7.25 (50% off)
Bobwhite Counter: Fried Chicken Sandwich for $3.63 (50% off)
Takumi Taco: Chicken Adobo Rice Bowl for $5.51 (50% off)
Inday: Select bowls 50% off
Gregory's: Select beverages $2 (all sizes)
Irving Farm: Cappuccino for $2.25 (50% off)
Besides the discounts, skipping the line during lunch is the kind of clutch hookup that can save a workday, when lines can be as long as your entire lunch break. "After discovering that 62% of working professionals eat alone at their desks, we saw this huge opportunity to connect people to the best spots in their neighborhood while making lunch social and convenient," says Ritual co-founder and CEO Ray Reddy.
That's a grim number, guys. Whether you use the app or not, take this as a reminder to get up from your desk for some socializing (and much-needed sunshine) over lunch this week.
While the deals are limited to specific dishes during lunch for this promotion, normally you can order anything from the 2,500 participating restaurants through Ritual during breakfast, lunch and dinner. The app also lets you combine orders with your colleagues (no more trying to keep track of everyone's weird substitutions), and rewards you with in-app cash to use on future orders.