This weekend will see the premiere of "47 Meters Down," one of those shark thrillers where you have a creeping feeling, the whole time, that these characters really ought to know better by now. And oh, by the way? It definitely doesn't pass the Bechdel Test. The film stars Mandy Moore ("This is Us") and Claire Holt ("The Originals") as two sisters with a horrible idea: to go swimming with the sharks alongside some random dudes they just met.
Of course, the rig breaks and they're stuck — you guessed it! — 47 meters down, on the ocean floor. With just an hour worth of oxygen left and about five minutes of personal affronts to cover ("I was never good enough!" "It's not a competition!") sisters Lisa and Kate have one thing on their mind: for Lisa to get over her ex who dumped her because she's boring by any means possible. Oh! We mean "survive."
We had a quick chat with Mandy Moore and Claire Holt about thrillers, the supposed low-risk of swimming with sharks, and of course, "This is Us."
The plot sounds like a nightmare. What are your biggest fears?
Claire Holt: I always had a fear of sharks. But I think what we've come to realize after shooting this film is that being stuck under water with an hour of oxygen is far more frightening than sharks.
What was it like doing a thriller? It's a lot different from most of the roles you each have played.
Mandy Moore: That's what was really enticing for the both of us, doing something that felt like a real challenge. I love thrillers, and I'm not often thought of for these kinds of films. And the script was so compelling. The movie takes place primarily under water, and I'd never seen that before. I loved that it was sort of two strong female heroines who have to rely on each other to survive.
You guys had an intense time together shooting, I'm sure. How well do you know each other now?
Holt: We're bonded for life now. And thank god because I don't think I could do it with anyone else.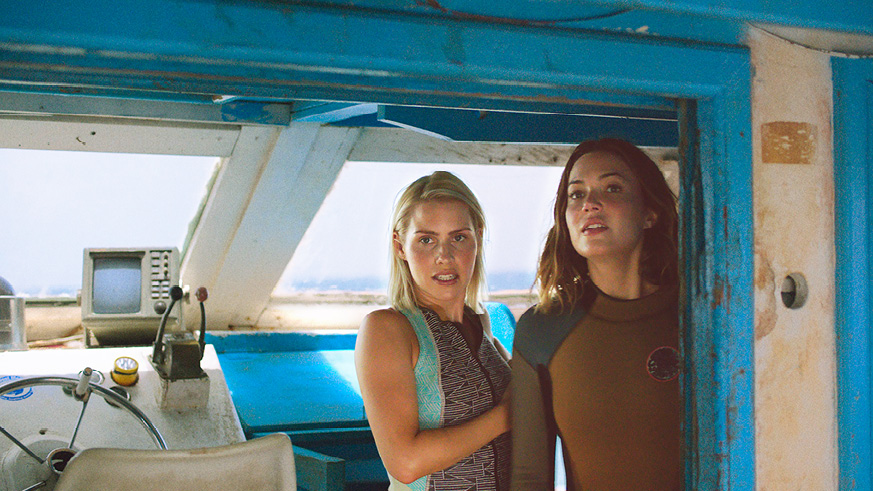 It really seems like your characters have never watched a shark movie in their lives. Like, have they seen "The Shallows," have they seen "Jaws?"
Moore: Well, we shot this two years ago before "The Shallows." And it's human — I would still get in a cage and go shark diving.
Have you ever done it before?
Moore: I haven't done it but I'm not opposed to it. There were many signs that should have prevented [these characters] from actually taking this adventure. But in the spirit of the moment, I find it entirely believable that these girls would find themselves on that boat and go down there. It seems relatively low-risk.
What was it like filming this movie, with no sharks? How do you get scared in these scenes when it's all movie magic?
Holt: Just being underwater was frightening enough. Going through that experience and feeling the claustrophobia and the anxiety. 
Moore: We were underwater every day for seven hours. And even though we were only 20 feet deep, it's not far from the mind like, wow, what if the safety divers don't get here quick enough? Can I get out of this cage in time to get to the surface? Your mind starts playing tricks on you.
Do you guys have any exciting projects coming out? Mandy,  "This is Us" is coming back soon — is there anything else you're excited about?
Holt: Nope, this is it.
Also Mandy, my coworker wants to know — how does Jack die in "This is Us?"
Moore: Claire and I just decided to say he gets attacked by a shark.
Holt: Then it'll be like a Marvel film.*
*Nobody in a Marvel film has been eaten by a shark. Ever.
Follow Rachael Clemmons on Twitter @rachaelclemz