Even though it has become known that the New York Yankees are the preferred destination of Baltimore Orioles star shortstop Manny Machado in free agency this winter, the Bronx Bombers look as though they just can't wait to get their hands on the talented 26-year-old. 
George A. King III of the New York Post reported that the Yankees have offered top-10 prospects to the Orioles in return for Machado.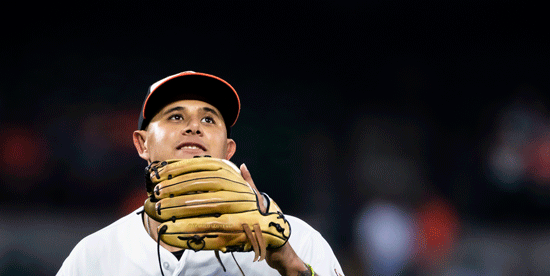 Baltimore has until the league's Jul. 31 trade deadline to deal Machado or else it will get nothing for him when his contract expires at the end of the season. It is a foregone conclusion that he is not returning to the Orioles, the team he's spent the first six-plus seasons of his career with.
The Yankees have one of the best pools of young talent in the majors which makes them an ideal trade partner for the rebuilding Orioles despite the prospect of trading their best player to a divisional rival. 
One of the largest questions that could concern Yankees fans though is why trade a part of your future for a player you would not have to give up anything for this winter? 
It's one thing if the Yankees were dealing a youngster or two for some much-needed help in the starting rotation, which is the team's weakest aspect as the second half of the season looms. It's another thing entirely if a future star is being traded for another big bat, which would be joining an offense already ranked No. 2 in all of baseball. 
But offers on the tables from other clubs like the Philadelphia Phillies and Los Angeles Dodgers could be forcing the hand of Yankees general manager Brian Cashman. While Machado wishes to sign with the Yankees now, being traded to a National League contender and a subsequent playoff run could coax him into re-signing with said team. 
What could the Yankees offer for Manny Machado?
Last week, left-handed pitching prospect Justus Sheffield was believed to be one of the Orioles' main targets in a package deal with the Yankees seeing as Baltimore is in desperate need of revamping its pitching staff. While it was believed that he was initially apart of an offer, those reports had been proven false since. 
Cashman's standing on Sheffield might have changed, but the Yankees still have a number of promising arms that could be included in a deal. Of the organization's top seven prospects, six of them are pitchers including Albert Abreu (No. 3), Chance Adams (No. 4) and Luis Medina (No. 5). 
The Yankees though have other youngsters to offer like center fielder Clint Frazier as a future replacement for Adam Jones and Miguel Andujar, who could slot into the left side of the Orioles' infield immediately.