Dick Wolf might have super powers. The legendary creator of the cultural institution Law & Order: Special Victims Unit has been blazing the trail in pointing the spotlight on sexually based crimes well before the #MeToo movement gained the visibility that it has today. This year will mark Law and Order SVU season 20, and it has only gained more relevance and importance as the narrative around sexual assault and the way we listen to and treat survivors has started to change in our country. Metro had the chance to speak with some of the stars of the show at the Tribeca TV Festival ahead of the show's premiere on Thursday September 29th.  
Law and Order SVU season 20 — Giving a voice to survivors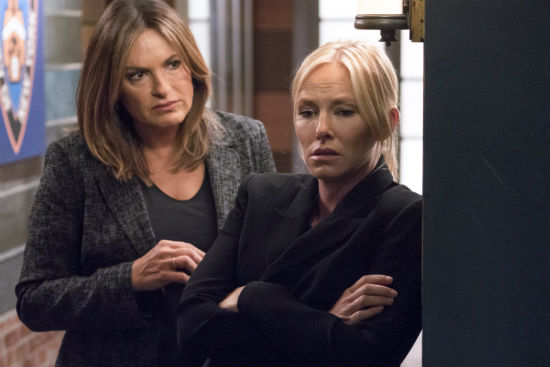 Mariska Hargitay alongside co-star Kelli Giddish in Law and Order SVU season 20. 
In a panel in front of a crowd of hundreds of die-hard SVU fans, no speaker received nearly the same reaction as Mariska Hargitay, who plays the uncompromising detective Olivia Benson. When addressing her, creator Dick Wolf addressed her as the "Grandmother of the #MeToo movement" for her continued work with her own charity, The Joyful Heart Foundation, as well as in reference to how her character has been a guardian angel for the survivors of sexual trauma on the show.  
The oxygen would leave the room every time she would speak at Spring Studio, as fans waited to see what their hero would have to say regarding the show's tremendous run.
"I feel so grateful that we have brought something that has been traditionally swept under the carpet," said Hargitay on her reverence for the show and what it has been able to achieve. "Something that has left survivors in shame and isolation — profound shame and profound isolation. I'm so grateful that this show has brought this to the water-cooler. Brought this conversation into the public arena in a way that has been profound and I've done a lot of healing. Being able to tell these stories has been nothing short of a privilege and a gift."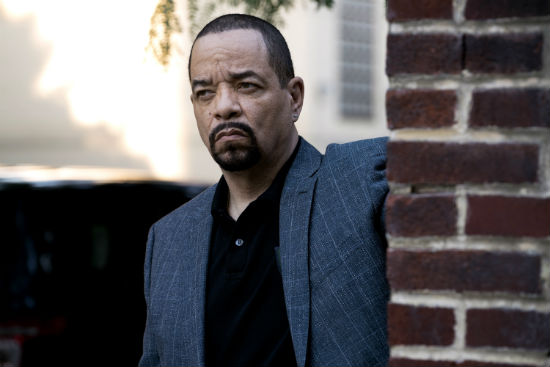 Ice T as Fin Tutuola on Law and Order SVU season 20.
The effortlessly cool and lackadaisical Ice T believes that the show will do what it has always done when it comes to shining a light on these issues as it gets closer to its drinking age. "We are always dealing for women's rights and different people who are doing the wrong thing — using their power to get over and stuff like that," he says, "But I don't know if we can actually turn that up? I just think we need to keep doing what we're doing… We're at the mercy of the script. You have to remember: I'm just an actor. So, people say 'well you should do this!' I'm like 'I can't say a word they don't put in my mouth!' So you gotta give that all to the writers. You've gotta give that all to the creators and the people behind the scenes writing these stories. We just get to act them out."
Other than Mariska Hargitay, Ice T is the show's elder statesmen having joined in the second season as his beloved character, Fin Tutuola,  for what what was supposed to be a four episode ark. He's been with the show ever since. So what keeps him inspired after all of these years?
"I don't know if I'm passionate or inspired. It's just I'm an actor," say Ice. "I got on the show to do four episodes and it turned into 20 years. It's fun to come to work. Everybody on the show is nice. The working environment is cool. People love the show. So when I'm out in the streets people love me because they love me because I'm on the show. That'll inspire you! I mean think about it if you were on a show and everyone hates you you'd be like 'Man, I don't know how long I wanna do this'! So the energy behind the show is so good. I'm an entertainer so I'm just inspired to work. I'm just happy to have a job. How many actors are gonna get a ride for 20 years? You find out also that this show is a little bit more than just entertainment it's therapy for a lot of people. It's another layer where people walk up to you and say 'thank you'. Not just 'I like the show, they say 'thank you'. You realize you're not only entertaining them but you're helping them. So that's a good vibe to."
Law and Order SVU season 20 will see a new addition to the show's family, as it welcomes actor Philip Winchester who will be playing the new D.A., Peter Stone. This character originally appeared on Dick Wolf's Chicago law procedural, Chicago Justice. So what was it like joining such a well-oiled machine that has set such a high standard for the genre?   
"Initially it was terrifying because there is so much history that you don't want to come in and be the blemish on it. But Marishka, Dick Wolf, Ice, Peter Kelly — They all welcomed me with open arms and my first episode was with Sam Waterson. So with all of that history coming from the legal side, it made it as accessible to me as possible. The writers gave me amazing material to work with so I could lean on that when my fear was getting the best of me. It really helped"
But right away, Winchester knew that Law and Order SVU season 20 would not shy away from the painful and uncomfortable topics of the day. That's just not what SVU does.
"In this first episode," Winchester says, " we talk about the definition of masculinity and where that comes from, why it comes from bad places a lot of the times, and why it's coming from the places it's coming from in this episode. That's a really interesting place to start out. Because it's a different side of the #MeToo movement. When this show started you couldn't talk about the things we are talking about… But what it's doing — because of Mariska and because of the writing— is giving victims and survivors a platform and it's giving them courage. It's an incredible show to be a part of."  
Peter Scanavino, who plays the show's rough around the edges detective Dominick Carisi Jr. — "Carisi" for short — thinks that when the show is firing on all cylinders it portrays an accurate depiction of the justice system in all of it's trappings. Whether they are good or bad, the issues this show covers really affect people's lives.
"I think when the show really rings true or hits the bell," Scanavino explains, "is when it can kind of go above that and really show that at the end of the day no matter what your politics are, these are human beings. I think that's what the show is really great at doing. It can take something that's a headline in a newspaper and put an actual experience and a human face to it. Humanize these things where you might be to partisan about it or in your political world about it. At the end of the day, there is a person suffering there."
Law and Order SVU season 20 will premiere with a special two hour episode Thursday September 27th on NBC at 9pm.