Beginning this week, some MBTA stations will turn into mini art museums, showcasing videos about Boston life created by local teens.
The initiative is a collaboration between the MBTA and the Institute of Contemporary Art in Boston, and hopefully a way to make your T commute a bit more enjoyable.
"We've been rolling out a network of new, high-definition digital screens throughout MBTA stations," said Evan Rowe, MBTA Director of Revenue. "We're always trying to think of new things we can roll out to riders that they will enjoy, that will improve their commutes, and that will make their days a bit more delightful – and the students in the ICA Teen Arts Program have provided something really special to make this happen."
The videos, created by members of the ICA Teen Arts Program, will play across three Outfront digital boards installed in multiple MBTA stations.
Three different videos were proposed and created by three teens — Mithsuca Berry of Revere, Gabe S. of Boston, and Sydney A. Bobb of Boston. The videos were fashioned around three themes: "whimsy," "love letter to Boston," and "peace and quiet."
In Berry's video, called "Shades of the City," a hand-drawn stop-motion animation shows the story of a woman of color who falls asleep riding the train and dreams of painting Boston in her "likeness."
Bobb's, called "Fraternal Eclipse," shows three passengers as their lives briefly intersect on public transportation.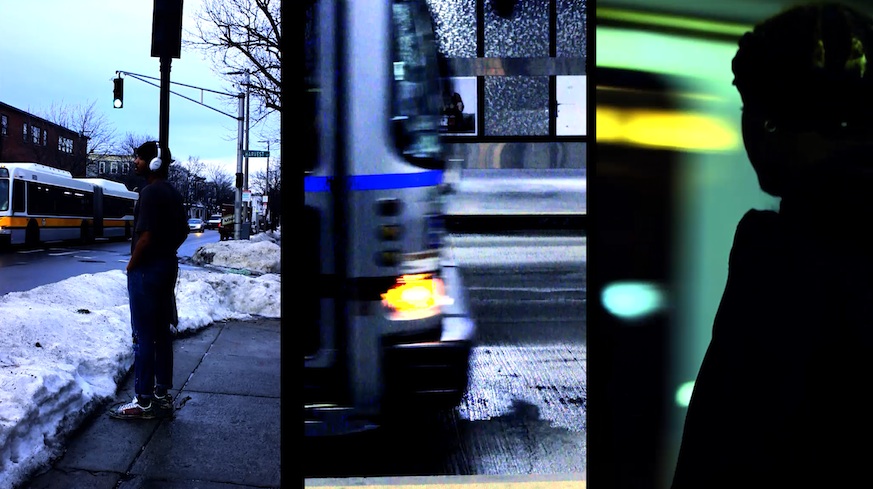 "A Walk in the Park," by Gabe, is a series of time-lapse clips that show different moments of what goes on within Boston Common, from the state house to the frog pond and everything in between.
These videos are meant to provide a bit of entertainment to T riders, but they're also a way to highlight the city's young voices and perspectives by giving them a modern canvas.
"This project is important to me because of the significance that the MBTA has had for me as an artist," Berry said in an email. "It bridged a gap between me, a student from a detached urban area, and the warmth of the art community in Boston."
Monica Garza, director of education at the ICA, said that this sort of public contemporary art, created by the city's youth, has a mutual benefit — both for the creators and the viewers.
"With contemporary arts, it's very relevant to ideas and themes and issues in our country, and our teens are always thinking about that," she said. "I think that ideas of place and placemaking are always ideas that a lot of our students and Bostonians are thinking about a great deal, so they were very excited to create works in response to that."
These videos will be showing in T stations with triptych screens for two weeks. 
This collaboration is a "first step," the MBTA said, in using this digital network to showcase both useful (i.e. service updates) and enjoyable content that aims to make for a better commute experience.