Last month, McDonald's announced the return of its iconic McRib, a fan favorite that made its debut in 1981 and feeds hungry customers at exclusive U.S. locations for a limited time every so often. As Fortune described it: "The McRib is kind of like a prairie dog, in that it pops up at random locations—and your local Micky D's might not be one of them."
Now, Time Out New York reports that you can opt for something…well…classier.
It's called the "NcRib," and it's from the Southeast Asian joint Num Pang Kitchen. Best known for their pulled pork sandwiches and rice bowls, it's no surprise that the place would put their own twist on a fast food classic.
But just like the McRib, you can't get it at every Num Pang Kitchen. The good news is that there's only one place to go for your fix: their 38th and Broadway location, otherwise known as Times Square South, at 133 West 38th street. 
As Time Out New York reports, baby back ribs are sous-vided (temperature-controlled cooking where meat is sealed in air-tight bags) for five hours in barbeque sauce. The bones are pulled, then the meat is pressed into a patty. Each sandwich has the equivalent to half a rack of meat.
Similar to how the McRib is prepared, these baby backs are topped with white onions, pickles and chili mayo. The whole thing is served on a homemade semolina bun. While the McRib has 72 ingredients, Num Pang's version only has 10.
Metro gives it a taste
On behalf of Metro, I wanted to see what all the hype was about. People often make fun of me for sticking to poultry (chicken or turkey as opposed to pork or beef) and I have to admit, the prospect of splurging on these ribs made me a tad skeptical. But I was quickly assured by Num Pang Kitchen staff that the sandwich wouldn't disappoint.
"I've eaten it twice already," the cashier told me.
"I'm about to have one when my shift ends in five," her coworker agreed.
The verdict? The pork was tender. The chili mayo and the barbeque sauce paraded sweet and tangy notes around my tongue. The onions and pickles added the perfect crunch. Eating this sandwich reminded me of backyard barbeques in the heat of July, and it was enough to make a poultry-lover like me delighted.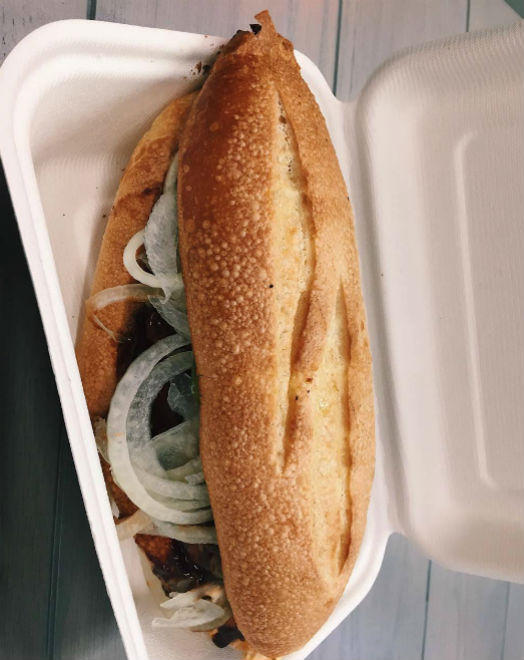 But it wasn't all summertime and sunshine for everyone. A fellow Metro reporter wasn't as impressed, stating: "It's super tasty, but when I taste the barbeque, it makes me think of the name 'McRib,' and it makes me want them to not call it the 'NcRib.'"
She also wasn't so pleased with the price. The sandwich is $11 compared to the McRib's much cheaper cost (for now, it's part of the McPick 2 menu). "Why align yourself with fast food crap when you're selling an 11-dollar sandwich?" she challenged, but added that it's "still delish."
Another fellow taste-tester found a small piece of bone.
The NcRib, which proves to be worth the hype (bone and all), is only available until December 19, and remember: it's exclusive to the Times Square South location.
Let it be known that the NcRib tastes like summer — and with the cold creeping up on our heels, I'd say that's a sure blessing.