There's been a lot of, ahem, fake news out there about the next Spice Girls reunion. Like, is it even happening? When? How? WHERE? Nobody knows!
Well, until now: Mel B. — aka Scary Spice — has confirmed that all the spices in the cabinet are dusting off their platforms. The reunion is on!
Walking the red carpet for America's Got Talent, Mel B said, "I can't say anything, but you definitely will see us, all five, back together this year," she said to reporters. "And not just in Geri's front room!"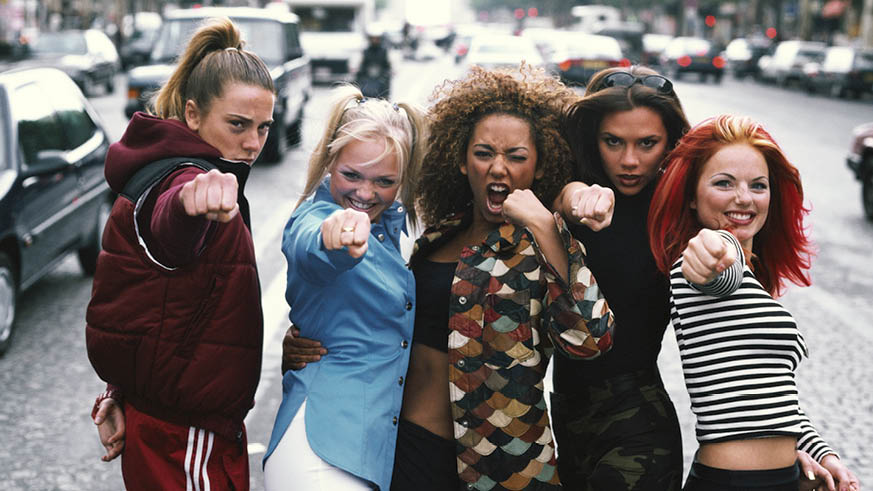 "We are definitely going to do stuff this year," she continued, playing coy. "That is for sure."
The girls are also rumoured to be performing at Prince Harry and Meghan Markle's wedding — a rumor Mel B. also started. Baby girl can't stop, won't stop!
Today in #GirlChatLive, Mel B shares if she is going to Meghan Markle and Prince Harry's wedding, and if the SPICE GIRLS ARE PERFORMING!! pic.twitter.com/Wx5geXuR7G

— The Real (@TheRealDaytime) February 27, 2018
"I'm going [to the royal wedding]," the 42-year-old revealed on The Real. She also added that all five of the girls (herself, Victoria Beckham, Geri Halliwell, Emma Bunton and Melanie Chisholm) have been invited.
">
All of that goes against what Victoria Beckham has said: in February, Posh Spice told Vogue UK, "I'm not going on tour. The girls aren't going on tour." Could it simply be a diversion?
Anyway, we can't wait. Bring back the hits — and the glory days of our youth, please!