Yesterday, Trump signed an executive order to allow immigrant families seeking asylum in our country to be detained together, instead of separatedly, at the U.S.-Mexico border — though it doesn't address the 2,000-plus children already separated from their parents. It also potentially violates a 1997 court settlement that says minors shouldn't be held in detention for more than 20 days.
The executive order, Trump explained on Wednesday, is "about keeping families together while at the same time making sure that we have a very powerful, very strong border." Therefore, the zero-tolerance immigration policy is still intact.
Congress is reportedly working on a "more comprehensive bill."
Prior to this executive order, Ivanka Trump had urged her father to find a legislative solution, and Melania Trump addressed her concerns through her spokeswoman. 
"Ivanka feels very strongly. My wife feels very strongly about it. I feel very strongly about it. I think anybody with a heart would feel very strongly about it," Trump said before signing the order. "We don't like to see families separated. At the same time, we don't want people coming into our country illegally. This takes care of the problem."
One day later, Melania made a surprise visit to a child detention center by the U.S.-Mexico border. 
Melania Trump visits the U.S.-Mexico border: What the h*ll is she wearing?
Spokesperson Stephanie Grisham told CNN that Melania would have taken this trip whether or not Trump signed the executive order, and it was "100 percent her idea."
"She wants to see what's real," said Grisham. "She wanted to see as close to what she had been seeing on TV. She wants to see a realistic view of what's happening."
But, before we discuss the details, here's what Melania was wearing when she boarded the plane: 
Melania wears I really don't care, do u?" jacket on surprise visit to migrant kids https://t.co/c157tLjQPE pic.twitter.com/eBwBIY1bON

— The Hill (@thehill) June 21, 2018
The green military jacket, reportedly from Zara, says, "I really don't care, do u?" 
Here's a closer look: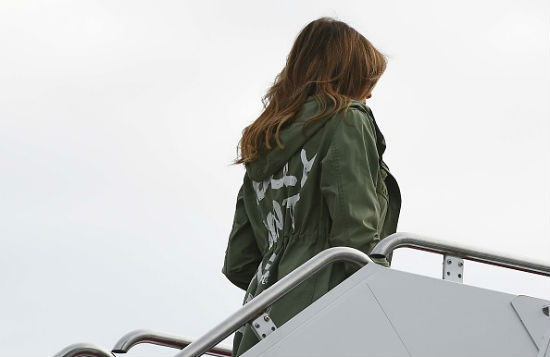 Melania Trump visits the U.S.-Mexico border: Details post wardrobe change
Melania's first stop was the Upbring New Hope Children's Shelter in McAllen, Texas — and she appeared to have changed out of the "I really don't care" jacket. 
The center currently houses almost 60 children (mostly teenagers) aged 12 to 17 and, according to Fox News, it shelters "unaccompanied minors, as opposed to those separated from their families at the border." 
In fact, their website states that they've been helping unaccompanied minors since 2014, and "248 brave, unaccompanied child refugees served" there last year.
Upbring CEO Dr. Kirk Senske reportedly told Melania, "We treat them like our own children," and he described it as a "safe and happy environment."
During a roundtable with social workers, doctors and other staff, Melania asked about the children's physical and mental wellbeing and how often they could contact relatives (which, according to Senske, is twice a week).
Melania also planned to visit a customs and border patrol processing center, but cancelled because of flooding in the area. 
.@FLOTUS: "We all know they are here without their families, and I want to thank you for your hard work, your compassion, and your kindness you're giving them in these difficult times." https://t.co/atwSL8nqq6 pic.twitter.com/iK44O5dgis

— Fox News (@FoxNews) June 21, 2018
Trump was reportedly supportive when Melania told him she was making a trip to the U.S.-Mexico border.
He said during a cabinet meeting Thursday, "Our first lady is down now at the border, because it really bothered her to be looking at this and seeing this, as it bothered me." Trump then blamed "extremist, open-border Democrats" for immigration issues. 
"Congress has to get together, get their act together. Democrats and Republicans. They have to come up with a solution," he declared. "I have ideas, they have ideas. We can put them together very easily."