Melania Trump fans are furious after realizing the first lady was snubbed by Vanity Fair on its "International Best-Dressed List" for 2017.
On a list that seems to include the who's who of world leaders — former President Barack Obama and former first lady Michelle Obama, Canada Prime Minister Justin Trudeau, French President Emmanuel Macron and wife Brigitte all made the list — the omission of the entire Trump family is glaringly obvious.
Even Melania's go-to stylist, Hervé Pierre, who dressed her for President Donald Trump's inaugural ball, made the cut.
Since her husband became the White House, Melania's fashion had made headlines on several occasions — she's been getting shade this week for wearing heels to visit flood victims in Texas and then there was the time she and first daughter Ivanka Trump made the decision to appear in Saudi Arabia sans head scarfs, which was seen as a statement in such a conservative Muslim country.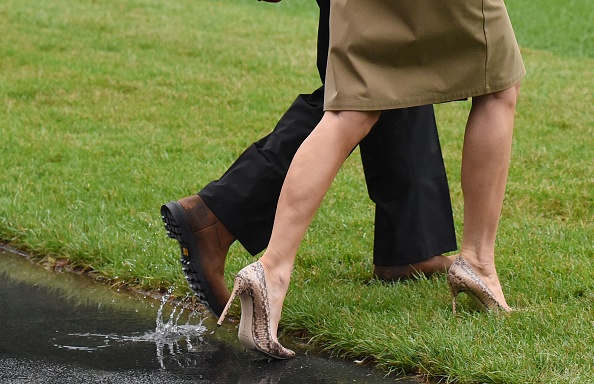 But perhaps a bigger point of controversy when it comes to Melania's fashion has been not about what she is wearing, but who she is wearing.
High fashion designer Sophie Theallet, whose styles were worn by Michelle Obama during her tenure as first lady, was the first to snub Melania, saying "The rhetoric of racism, sexism, and xenophobia unleashed by her husband's presidential campaign are incompatible with the shared values we live by." 
Others followed suit including Marc Jacobs, Tom Ford, Christian Siriano and Derek Lam, to name a few.
Still, the first lady has successfully stepped out donning high fashion labels by the likes of Dolce & Gabbana, Ralph Lauren, Jason Wu and Michael Kors, looks her supporters think deserve to be recognized.
The response from Melania Trump fans on Twitter has been predictable, with many of her supporters crying "fake news" and dubbing the magazine "Vanity Unfair."
Just when u think the the #FakeMedia couldnt get any worse, @VanityFair DOESN'T put @FLOTUS @MELANIATRUMP on their Annual Best-Dressed List

— Mason Epeneter (@MasonEpeneter) September 8, 2017
Vanity Fair can't quite grasp the concept of Class, Elegance, Beauty, Intelligence all in one package. Definition, Melania Trump @Flotus.

— Lisa Cuglietta (@ranchlife4sure) September 8, 2017
Melania Trump Is To Beautiful For Vanity Fair, I mean Vanity Unfair

— (((Doc Holliday ))) (@RonnieCheek) September 8, 2017
Please retweet if you disagree with @VanityFair who snubbed Melania Trump but honored Michelle Obama on the International Best Dressed List. pic.twitter.com/lWlWPGPhJc

— Ben Owen, HRK ?? (@hrkbenowen) September 6, 2017
@VanityFair Not having Melania Trump on best dressed list is pure spite. You know as well as I do she is best dressed PERIOD! #bestdressed

— SouthernMom (@madams3196) September 7, 2017