The New York Mets season is lost, that's something that has become painfully apparent for fans since June. It's been an all-too-familiar sight of the team simply playing out the remainder of its schedule through the dog days of summer instead of taking the field for meaningful games in what was expected to be a playoff push at the beginning of the year. 
It's been somewhat of a nightmare for first-year manager Mickey Callaway, who hasn't necessarily proved himself as a steady presence in the dugout. 
The former pitching coach has proven an ability to work with the top end of his rotation these past few months with the success experienced by Jacob deGrom, Noah Syndergaard and most surprisingly, Zack Wheeler. Yet his offensive tactics and defensive alignments have been puzzling at times. 
He's constantly played over-the-hill veterans like Jose Reyes and Jose Bautista in meaningless games rather than getting extended looks at some of his younger or more promising players like Dominic Smith and Jeff McNeil.
The second and third baseman McNeil has done nothing but hit since being called up to the majors a month ago. 
He has 31 hits in 28 games, including an 8-for-8 streak that came within one hit of tying a Mets franchise record for most consecutive hits. Reyes by comparison, who has played seven games at second and third base since McNeil's call-up, has just eight more hits than McNeil in 91 games this year. 
There's no reason why Reyes should still be playing, especially after the Mets called up 26-year-old Jack Reinheimer to play shortstop. 
Smith, who has certainly had a difficult go in the majors so far, only has 80 games of MLB experience under his belt and has recently had to contend with playing left field instead of his natural first base spot. Instead, Callaway has opted to go with the 37-year-old Bautista, 14 years Smith's senior, and middle utility infielder Wilmer Flores instead. 
It wasn't that long ago that Smith was the Mets' second-best prospect behind Amed Rosario, but he's looked lost at times at the plate as he's batting just .197 over his limited two-year stint.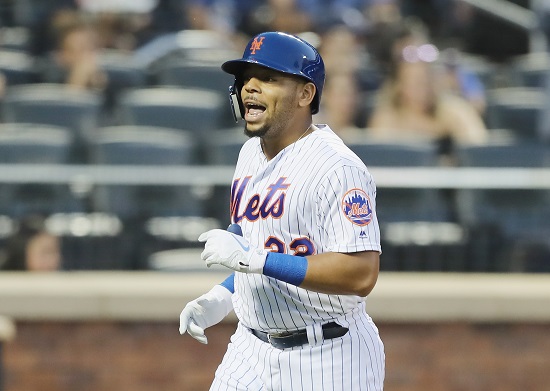 The organization has done little to back him as trade rumors swirled around his name last winter while opting to sign and start 36-year-old Adrian Gonzalez at first to start the 2018 season. Smith went back down to the minors where he continued to work on his approach at the plate. 
Performing under that kind of uncertainty could do plenty to damage a player's psyche, which is why Callaway and the Mets should be giving the 23-year-old a vote of confidence to end the season and it doesn't even have to be a public one. All Callaway has to do is tell Smith that the first-base job is his for the rest of the season no matter what happens at the plate and see what he can do. 
What's the worst that can happen?
It can't get much worse for the Mets this year so Callaway might as well lose with the youngsters.