After begging for a trade last season, not only is Asdrubal Cabrera still manning second base for the New York Mets, but he's thriving. However, that might not be for long.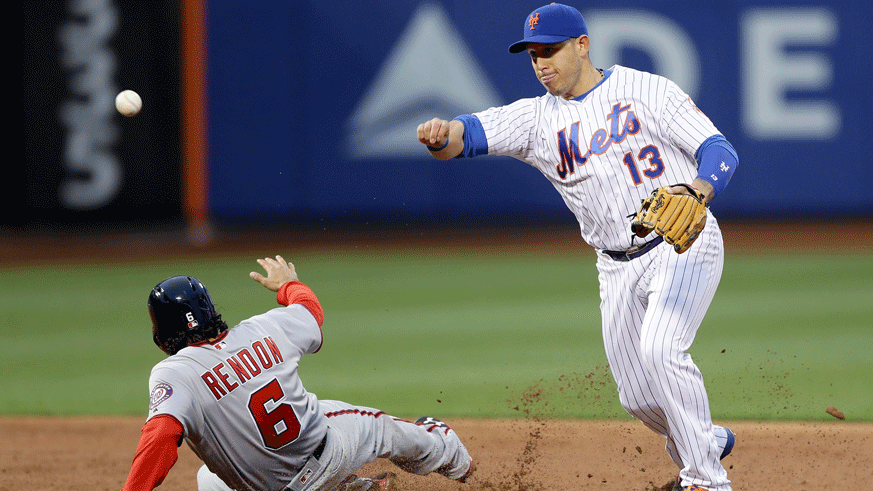 ESPN's Buster Olney has reported that there are multiple teams interested in trading for the 32-year-old. The Milwaukee Brewers, Philadelphia Phillies and Cleveland Indians are three teams that are known to be pursuing him. 
Cabrera is having one of the finest seasons of his career, his 12th in the majors as the switch-hitter is slashing .280/.332/.487 with 17 home runs and 53 RBI in 94 games. He would provide an underrated bat with power that could be an immense help for contending teams that are in need of a boost outside of the Nos. 3, 4 or 5 spots of their respective lineups. 
With his contract expiring at the end of this season, the Mets have to get something for him now before he walks in free agency. Though recent history has shown that ownership is not concerned with getting the best possible talent in return (the Mets traded Jeurys Familia to the Oakland Athletics for nothing more than salary relief and lowly-touted prospects).
In the field, Cabrera is a natural shortstop who is capable of playing second or third base as well, which makes him even more of an attractive target down the stretch:
Asdrubal Cabrera fit with the Philadelphia Phillies 
The Phillies, who are battling to stay atop the Atlanta Braves for the NL East lead, are getting little out of starting shortstop Scott Kingery, batting just .237 with four home runs and 28 RBI in 94 games. His struggles were a main reason the Phillies were in on the Manny Machado sweepstakes before he was dealt to the Los Angeles Dodgers. However, Cabrera would be a solid consolation prize and a sizable upgrade at the position. 
New York though might be wary of dealing Cabrera to a divisional rival. 
Milwaukee Brewers
In Milwaukee, the Brewers could use Cabrera at either second or shortstop. The young Orlando Arcia's struggles at short resulted in a demotion to the minor leagues while starting second baseman Jonathan Villar is on the 10-day DL after spraining his right thumb.
It's forced the Brewers to roll out the light hitting Hernan Perez at second base every day, which would seem to be Cabrera's spot should he be dealt there. Milwaukee might have something promising brewing with 28-year-old shortstop Tyler Saladino, who is hitting .287 in his first 31 games with the club after being purchased from the Chicago White Sox. Not many chances can be taken though as the Brewers are in danger of falling out of contention in the NL Central as they trail the Chicago Cubs by 3.5 games entering Monday night. 
Cleveland Indians
The Indians though could reunite with Cabrera for a stretch run as they continue to close in on the AL Central crown. Their divisional lead is already nearing 10 games with some fine tuning needed before a seemingly-imminent playoff run.
One of their largest weaknesses is second baseman Jason Kipnis, who is struggling mightily with a .219 average in 90 games this season. The 31-year-old continues to see his play dip, his average continuously sinking ever since an All-Star campaign in 2015 resulted in a .303 mark at the plate.