With less than one week to go until Major League Baseball's 2018 trade deadline, the future of Jacob deGrom in a New York Mets uniform continues to be an uncertainty.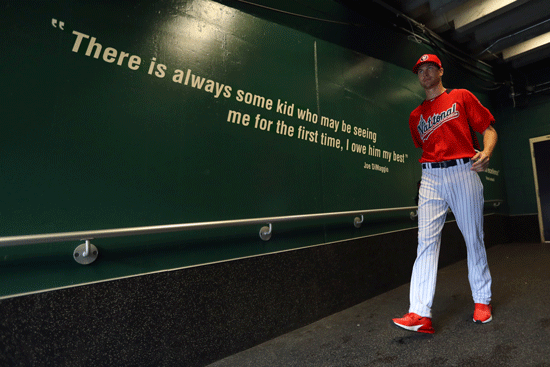 The Mets are going nowhere, a dysfunctional team continuing to sink in the National League despite the brilliance of their 30-year-old ace. He leads the majors with a sterling 1.71 ERA, Monday night providing another sobering rendition of "Groundhog Day," against the San Diego Padres as deGrom went eight innings, allowed two earned runs while striking out 10 and was saddled with his fifth loss of the season thanks to hapless defense from Jose Bautista and Amed Rosario. 
It was the 16th time this season that deGrom has allowed two earned runs or fewer and it's the 11th time he's gotten either a no-decision or a loss. 
Yet deGrom has remained a consummate professional, continuously saying that he has no desire to leave the Mets even though he is basically the captain of a capsizing ship.  
"I've enjoyed my time here, like I said," deGrom said on Friday (h/t New York Post). "In 2015, that was a blast, and I want to win here. That's what we want to do. Wanting to be part of the future, I hope the feeling's mutual."
Assistant general manager John Ricco — who has taken the reins for Sandy Alderson while he's on a medical leave of absence — has been non-committal, most recently on Monday. 
Prior to deGrom's fifth loss of the season, dropping his record to an underwhelming 5-5, Ricco said that the Mets are "still having dialogue with some teams," about possibly trading deGrom before the deadline." Though he added that the organization "loves him" and that "it would take an awful lot," to move him (h/t Anthony DiComo, MLB.com).
The problem is that management's recent track record suggests that the Mets will likely get fleeced on a deal that involves deGrom should they, in fact, trade him. Looking over the past two seasons at the organization's return for trades involving Jay Bruce, Lucas Duda, Curtis Granderson, Addison Reed, Neil Walker and Jeurys Familia, New York has gotten basically nothing in return. 
That means no major-league-ready talent, no top-tier prospects, no names to fill direct needs. Just a combination of salary relief and international bonus pool money to go with mid-to-lower-level prospects. 
Just look at what this team has acquired when dealing important, contributing veterans.
Jacob deGrom trade rumors: Mets returns on recent notable trades
Drew Smith (for Lucas Duda)- 5-1, 2.76 ERA in triple-A
Ryder Ryan (for Jay Bruce)- 2.25 ERA in double-A
Eric Hanhold (for Neil Walker)- 9.00 ERA in triple-A
Jacob Rhame (for Curtis Granderson)- 6.93 ERA in 25 appearances with Mets since 2017
Stephen Nogosek (for Addison Reed)- 14.54 ERA in double-A
Jamie Callahan (for Addison Reed)- 9.72 ERA in triple-A
Gerson Bautista (for Addison Reed)- 12.46 ERA in five appearances for Mets, 5.18 ERA in triple-A
Bobby Wahl (for Jeurys Familia)- 2.27 ERA in triple-A
William Toffey (for Jeurys Familia)- .244 BA, 5 HR, 32 RBI over 48 games in single-A
How many bad mediocre relievers can one get along with the cash before enough is enough.
This is the part of the program where we once again turn our direction to the owners as Fred and Jeff Wilpon continue to deal away their best players for what looks like funds to help them get out of debt after being rocked by the Bernie Madoff Ponzi scheme a decade ago. 
The Wilpons continue to shun the needs of the organization, showing zero desire to put a winning product on the field despite playing little brother to the Yankees in the most competitive sports market on the planet.
Familia was one of the Mets' better trade chips this summer and was dealt too early in the month for an underwhelming return as the A's picked up the $3 million he's owed. It's the savings that made this deal happen and Mets management and pundits on television can try to tell you otherwise. 
Should the Mets trade their one remaining, healthy star in Jacob deGrom, who has been relegated to a swamp of ineptitude, it must be for a king's ransom. The Yankees have constantly been linked to him and they have a plethora of promising talent that is deserving of getting the ace. That includes any combination of Miguel Andujar, Justus Sheffield, Clint Frazier and Chance Adams. 
Regardless of the trade partner, if the Mets don't pick up at least one prospect ranked within the league's top-20, instead opting for another series of underwhelming relievers or struggling infielders, Rob Manfred and Major League Baseball has to step in. 
The actions of the Wilpons have continuously and relentlessly harmed the Mets since taking complete control in 2002 and trading their ace for peanuts in order to put more money in their bank accounts is prompt for the commissioner to step in and force the family to sell the team to an owner that can commit to making the Mets a true New York sports franchise instead of a fledgling joke.