Fired Trump national-security adviser Michael Flynn followed five Twitter accounts from a Russian troll factory and pushed their messages right before the 2016 presidential election, the Daily Beast reported Thursday.
On Wednesday, House investigators revealed the names of 2,750 accounts created by the Internet Research Agency, a St. Petersburg-based troll farm linked to the Kremlin. One of them had previously been unmasked as Ten_GOP, which Flynn, Donald Trump Jr., Trump campaign manager Kellyanne Conway, and Trump campaign digital director Brad Parscale retweeted before the election.
Three days before the election, Flynn posted that a Ten_GOP tweet "needs to be RT'd (retweeted) frequently," tagging his son Mike Flynn Jr. and Trump campaign social media director Dan Scavino.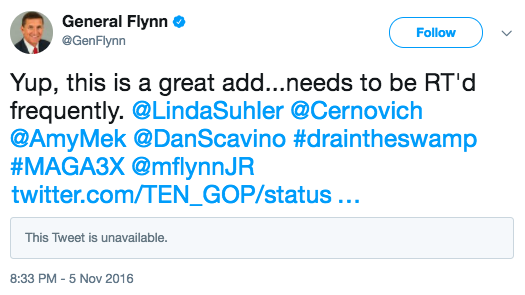 Additionally, Flynn followed the accounts Jenn_Abrams, LauraBaeley, Pamela_Moore13 and SouthLoneStar. Baeley, Abrams and Moore claimed to be American Trump supporters. SouthLoneStar's bio indicated he was a "Proud Texan and American Patriot" who believed "Islam is against Western culture."
Flynn quoted a tweet by Pamela_Moore13 on October 13 and wrote, "Let's take our country back from the hands of those who care less about you & I and more about power & money."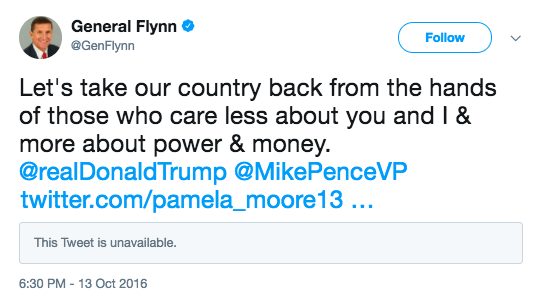 "Moore" — who claimed to be a Texas resident, "pro-God" and "anti-racism" — often posted anti-immigrant sentiments. "Today's Marseille, France:  Hospitals are so overrun by Muslims gimmigrants that local French can no longer get care," was posted by the account in August, a few weeks before it was taken offline by Twitter.
The Daily Beast found that Flynn's son, Michael Flynn Jr., retweeted Russian troll accounts 47 times, including five tweets defending his father and one that purported to debunk Russian interference in the American election. At the same time, both Flynns helped disseminate the Pizzagate hoax, which claimed that Hillary Clinton and her campaign manager John Podesta were running a pedophile ring out of a D.C. pizza restaurant.
Flynn is a central figure in Robert Mueller's investigation into widespread Russian meddling in the 2016 presidential election. Trump's pick for national-security adviser resigned after he misled Vice President Mike Pence about his meetings with Russian ambassador Sergey Kislyak, the White House claimed. Three weeks earlier, Acting Attorney General Sally Yates had warned the White House that Flynn was vulnerable to Russian blackmail because of his deception.