The set of Late Night Whenever — a new podcast hosted by comedian Michelle Buteau and produced by WNYC Studios — is cozy AF. It's like being in the real-life version of a living room set from an Urban Outfitters catalogue, flattering mood lighting and all. The plush couch is adorned with a variety of patterned pillows and there are sprawling plants set thoughtfully around. It's the perfect setting for a late-night style show that promises to feature monologues, musical accompaniment and interviews with celebrity guests, unburdened by the time constraints of mainstream television. And Buteau is the perfect host.
To say the unofficial third Dope Queen — a frequent guest on the 2 Dope Queens podcast with Phoebe Robinson and Jessica Williams — has a major presence would be an understatement. Buteau has a genuine warmth that radiates out of her, whether on stage or over the phone when we're talking about Shape of Water and waxing poetic about um, nautical genitalia. So this late night thing? It comes naturally.
We chatted on the phone with the delightfully charming Brooklyn resident about the benefits of binge watching Santa Clarita Diet, creating her own space in late night and why she wants to tell personal stories.
I came to the set the other day, but I just wanted to sit down and chat with you about the show.
I'm lying down, if that's OK. I'm on your Twitter, are you watching Santa Clarita Diet?
I love Santa Clarita Diet. I watched every single episode last weekend.
OK, I'm going to binge it. I read the pilot and I said this is so f—king good. I auditioned for a nosy neighbor friend that's married or whatever, and I was like c'mon now. I don't look like Santa Clarita.
When it comes to late night, the mainstream is overwhelmingly white and male. How have you gone about creating your own unique space as a woman and a person of color?
So many feelings, so little time! Even though episodes roll out every week, I wanted it to be more evergreen. I was actually watching a lot of Real Housewives the other day, and I was like — 'Oh, this is sort of like a crazy lady podcast! Everybody is having a free wheeling conversation about who said what about somebody's doormat!' I love that and that's kind of what I wanted to do. I also miss that in late night and daytime because it's just been so inundated with, 'How do you get the red wine stain out of the couch?' Or another Trump joke.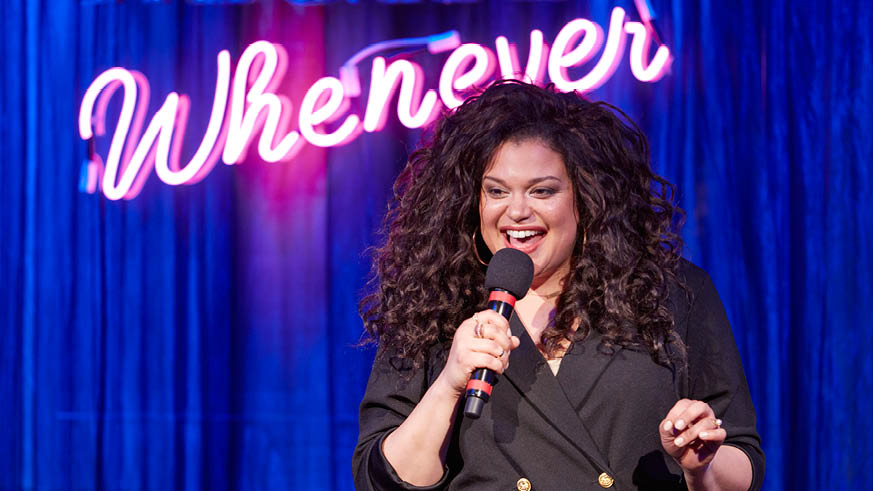 It's all become super formulaic.
What about personal stories? Nobody wants to go into that anymore and if they do [it's about] how we can fix each other. How about we don't worry about fixing anyone or being PC and we just kinda have a good time? Whatever happened to having a good time in a cute dress?
How have you found this format to give you more of an opportunity to be, as you said, less PC and more open?
I have a big personality and I can get the job done — but when I first started stand up, I was always like what do you need? What do I do? Don't offend! But the best sets I've had when it comes to comedy is when I black out and say whatever the f—k i'm thinking. I don't know, I think it's just maturity. You know when you cook something over and over and you ruin it and you get it right finally? And it's like, it just tastes good. [Unless] I try to do a healthy bowl. Who wants to eat f—king seaweed? I felt like I just went down on a fish. I felt like that bitch in Shape of Water.
You talk about when you first started doing stand up, but you've been at it for over 15 years. And yet you're still referred to as a rising comedian sometimes — does that irk you at all?
I saw that and I think it's so cute. I don't think, 'Oh people don't know me, I got a ton of work to do.' I just think, 'Damn the world is big. Its hella big. And isn't it nice that I'm young and funny enough that people are like, look at this new rising star?' Yeah, I'll take that s—t. To be offended over a compliment, it's just like go to the DMV with that nonsense. You too angry. Get it together.
New episodes of Late Night Whenever are available every Tuesday on WNYC and iTunes.