By Elaine Lies
GANGNEUNG, South Korea (Reuters) – Four years ago, American figure skater Mirai Nagasu was heartbroken after being left off the U.S. team for the Sochi Olympics in favor of a woman who ranked lower than she had at a key qualifying event.
In fact, she and fellow figure skater Adam Rippon shared a deflated dream when they both missed out on Sochi. "Four years ago, we were eating In-N-Out on the roof of her house in Arcadia, California, and we were crying that we weren't at the Olympics," Rippon said after his standout performance in the team event, "and four years later, we're sharing an Olympic podium together."
Adam Rippon, Olympic Medalist sounds v cute ??‍♂️ Couldn't have done this without my incredible teammates ❤️ pic.twitter.com/7WTlwk65zp

— Adam Rippon (@Adaripp) February 13, 2018
But on Monday, the 24-year-old whose Japanese immigrant parents run a sushi restaurant and mother hand-sewed her costumes, made skating history. She became the first American woman — and only the third woman overall — to land the fiendishly difficult triple Axel jump at an Olympics.
Skating a stellar routine in the women's free skate portion of the team competition, Nagasu began with a clean triple Axel and then went on to nail eight other triple jumps, including a triple flip and triple Salchow combination as she helped America claim bronze.
Nagasu, who was skating at her second Olympics (she represented USA at just 16 during the 2010 Vancouver Games) pumped her fists and grinned in triumph. 
My #MondayMotivation is @mirai_nagasu, the first American woman to land a triple axel at the Olympics. Heading to the gym to start working on it!! pic.twitter.com/DMCsDaPpI4

— Mayim Bialik (@missmayim) February 12, 2018
"I feel really great," Nagasu said after her performance. "Going into it, I was like a train, get on those tracks and get some speed. To nail it the way I did — and even out of the corner of my eye, I could see my team mates standing in excitement."
The only other women to land the jump in the Olympics were Japanese skaters Midori Ito and Mao Asada, and Nagasu joked that perhaps her ancestry had played a part.
"Maybe it's the Japanese genetics — but lucky for me I'm American, so I'll be the first U.S. lady," she said.
Y'all, @mirai_nagasu was literally BORN TO MAKE HISTORY #Olympics pic.twitter.com/Lk6lGbMuK4

— Lily Rugo (@Lily_Rugo) February 12, 2018
Nagasu was born to Japanese immigrant parents who run a sushi restaurant in California, where she grew up. Her first name means "future" in Japanese and she reportedly speaks a mixture of Japanese and English at home with her parents.
She began skating at the age of five and idolized two-time Olympic medalist and skater Michelle Kwan. As her career took off, she said it was sometimes difficult to keep going on the income from a restaurant.
Hand-Sewn Costumes for Nagasu
"My mom also made a lot of my skating costumes," Nagasu said on a conference call in January. "She also, like Michelle's mom, sewed sequins on one by one and I would complain that they were not as shiny as the rocky crystals because we got ours at Target and Michael's."
Nagasu says that while in general she turns to comedy and laughter to reduce pressure at big events like the Olympics, overcoming the heartbreak of missing the Sochi team was tough.
"I was very upset for a very long time. But I changed myself and became a better skater," she explained. "I honestly don't think that I would have worked as hard on the triple Axel if I didn't have that time to really contemplate."
Unfortunately, her parents weren't there to see her make history. Nagasu has said that her sushi chef father rarely had the chance to see her skate because he almost never closed his restaurant, and now is no different.
He even features an "Olympic Roll" on the menu in honor of his daughter. 
American figure skater Mirai Nagasu's parents own a sushi restaurant in California and created an "Olympic Roll" in honor of their daughter. pic.twitter.com/9yDs89dRWZ

— USA TODAY Sports (@usatodaysports) February 7, 2018
"Three weeks is a long time, especially to leave work," Nagasu said of her parents. "They're only coming for the last week, but I'm sure they're home now watching it. I can't wait to see them."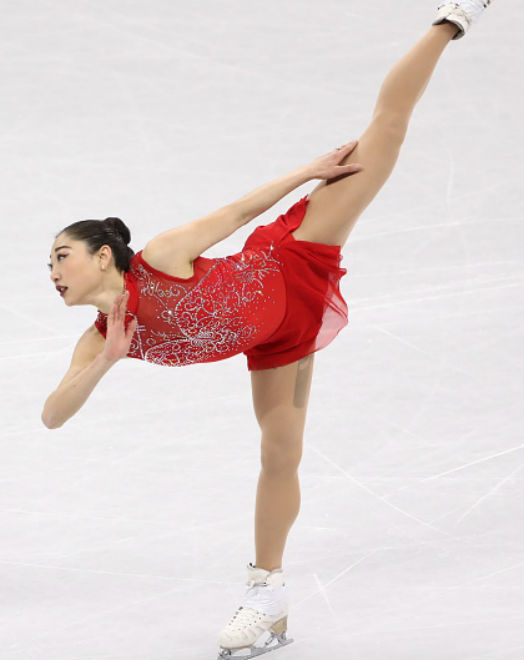 (Reporting by Elaine Lies; additional reporting by Gabrielle Tetrault-Farber; editing by Sudipto Ganguly)