In the opening scene of Chris Kelly and Sarah Schneider's The Other Two, which premieres tonight at 10:30 p.m. ET on Comedy Central, The Today Show's Kathie Lee and Hoda introduce audiences to the Justin Bieber-esque Chase Dreams (Case Walker). Seated beside him is his mother Pat Dubek (Molly Shannon), who almost immediately injects herself into her celebrity son's newfound fame. "Thank you so much for having us!" she exclaims.
Molly Shannon is The Other Two's secret weapon
Seeing the Saturday Night Live alum adorned in a reddish, soccer mom-like wig and the accompanying wardrobe is as hilarious as the character itself. But as The Other Two stars Heléne Yorke and Drew Tarver explained to Metro, the experience of working with Shannon on Kelly and Schneider's fantastic new comedy series was far more than a simple bit of costuming.
"We're both obviously gigantic fans," says Yorke when asked what it was like to work so closely with Shannon. "So honestly, the only answer is crazy."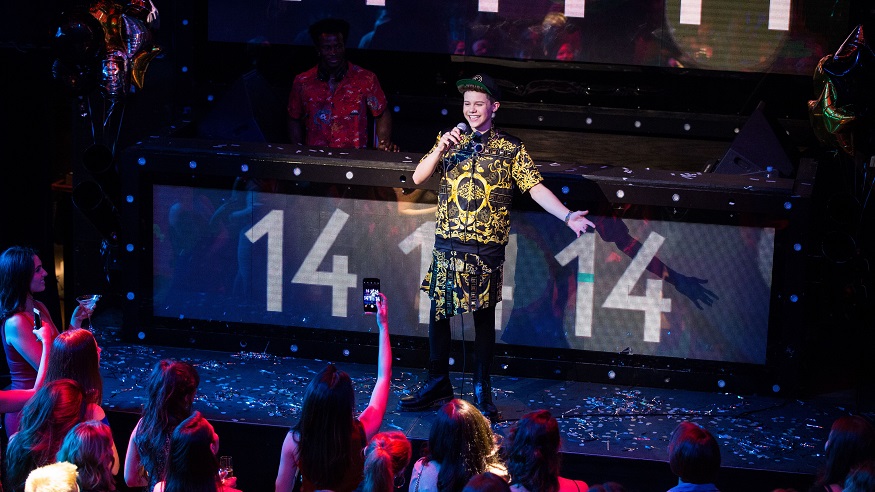 To be fair, Yorke and Darver routinely steal the show whenever their sibling characters, Brooke and Cary, are on screen separately or together. Whenever Shannon's Pat enters the mix, however, she propels The Other Two into the comedic stratosphere with ease.
"It's really unbelievable to do scenes with someone you're such a big fan of," Tarver explains. "It's kind of shocking to all of a sudden be in a scene with someone you love, who you've been watching for years. I was telling Chris [Kelly] that if it seemed like my character Cary was being a big fan of the actress Molly Shannon, he should tap me on the shoulder and say, 'Hey Drew, you're not supposed to be smiling so much in this scene. You're supposed to be sad. Get over it.'"
The Other Two also benefits from an impressive ensemble
Along with Ken Marino as Chase's agent Streeter, Wanda Sykes as Shuli Kucerac and many others, The Other Two also boasts an impressive ensemble of comedy actors whose combined presence makes for an utterly enjoyable viewing experience. As Yorke and Darver explain it, however, it was just as enjoyable for everyone involved in making the show.
"I don't know how the stars aligned on this," says Yorke. "For us, we genuinely liked and communicated easily with the people we were working with. That's certainly something we happened to hit with The Other Two, which is, again, so lucky. Anytime we did rehearsals together it was a really fast and loose process. Everybody involved was so funny and good."
"That big dinner scene in the pilot was kind of our first big thing that we shot together," adds Tarver. "Ken had these glasses that he bought in France. They were these tiny, purple reading glasses. He was leaning over the table to me and saying, 'I think I'm going to wear these glasses and make them a thing.' So in that scene, you'll see him trying to make these glasses work. Filming that bit was our first real hangout as a cast and it was so much fun. It was kind of like an unofficial rehearsal. We were just having a blast with each other."
When does The Other Two premiere?
The Other Two premieres tonight at 10:30 p.m. on Comedy Central.