The MSPCA was able to save more than 200 birds from euthanasia after hundreds of roosters, hens and chicks were discovered in a cockfighting operation in Northampton.
At the end of May, the MSPCA and Northampton police announced that officials busted a cockfighting ring that involved nearly 400 roosters along with some hens and chicks. The animal society said that it would need to humanely euthanize most of the roosters because they were bred for fighting and would kill or attack any nearby animals if placed into new homes.
But now, five weeks after the MSPCA first announced that it took the birds from the Northampton property, the animal society said on Thursday that 200 of these birds were able to be saved from euthanization. These birds have been placed into sanctuaries or into experienced private homes.
"At the end of the day these birds are not appropriate pets for most homes," said Elizabeth Monteith, manager of the farm animal program at MSPCA-Nevins Farm, in a statement. " We couldn't have imagined at the start of this that we would find suitable living spaces for any of them, let alone more than 200."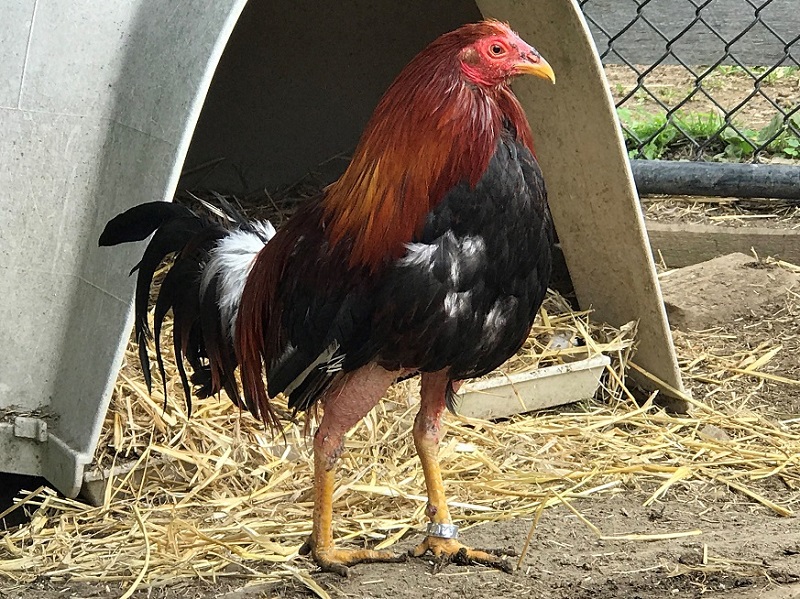 Fighting cocks are extremely aggressive and fortunately outreach to dozens of sanctuaries helped land many of them into safe retirement homes. Photo: Provided by MSPCA-Angell
A total of 193 roosters from the largest cockfighting ring bust the MSPCA had ever seen were humanely euthanized, the organization said, as they were too aggressive for even the most experienced bird sanctuaries to handle.
The Vine Sanctuary in Springfield, Vermont, took in 136 roosters, hens and chicks and the Tomten Farm & Sanctuary in Haverhill, New Hampshire, took one rooster and 10 hens.
Sixty-three other birds were sent to sanctuaries and private adopters after the MSPCA reached out to more than 50 sanctuaries along the entire East Coast.
"It's extremely difficult for us to euthanize these birds," Monteith added, "but we take solace in knowing we saved them from deplorable conditions and a brutal death at the hands of their abusers — and we're so happy we found options for over 200 thanks to some great animal welfare organizations."