New Yorkers can get into the holiday spirit while riding the MTA as the Holiday Nostalgia Trains hit select subway tracks starting Sunday, Nov. 25.
The annual tradition from the New York Transit Museum takes straphangers on a ride back in time, thanks to a fleet of vintage MTA trains and buses.
Rides on the Holiday Nostalgia Trains cost the same as a regular MetroCard swipe ($2.75) and let you experience a blast from the past.
The MTA Holiday Nostalgia Trains are vintage 1930s R1-9 train cars, which first went into service in on the Eighth Avenue line (today's A, C, E NYC subway lines) in 1932 and ran until 1977.
These MTA trains were "modern for their time," according to the New York Transit Museum, featuring rattan seats, paddle ceiling fans (installed before "the age of air conditioning), incandescent light bulbs, roll signs, period advertisements and capacity for nearly 300 passengers.
MTA Holiday Nostalgia Trains Schedule, Route, Subway Stops
The Holiday Nostalgia Trains will roll into select NYC subway stations on Sundays between Thanksgiving and New Year's: November 25th, December 2nd, December 9th, December 16th, December 23rd and December 30th.
These special MTA trains will depart from 2nd Avenue on the F line in Lower Manhattan and run along 6th Avenue in Manhattan to 47th-50th/Rockefeller Center. Then the train will head up the Central Park West line where the train will stop at 59th St – Columbus Circle before making its way up to 125th St on the A/C/D lines in Harlem.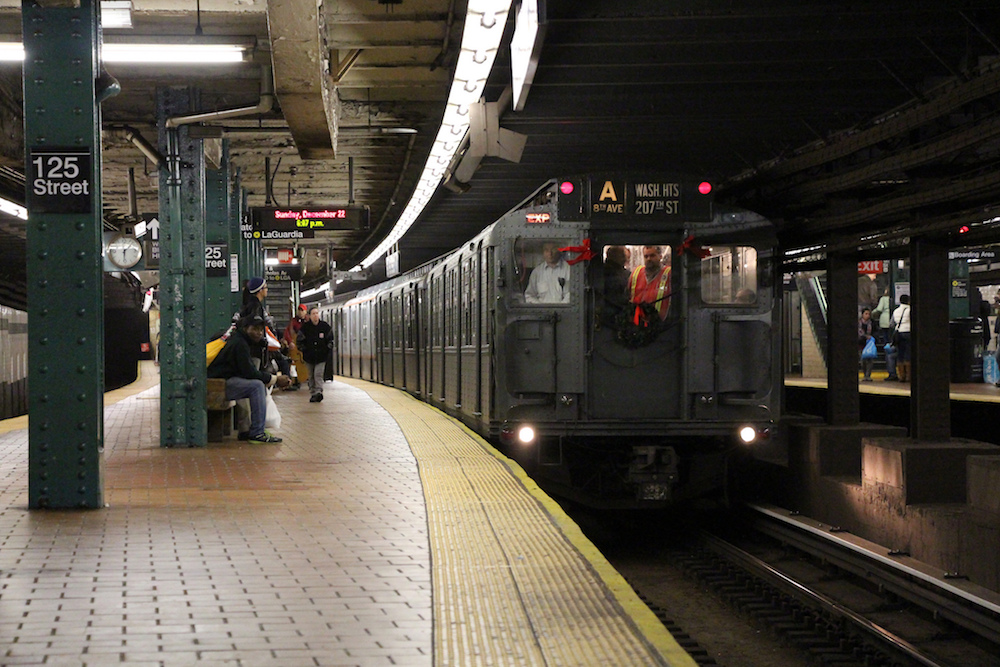 Holiday Nostalgia Trains will be making express stops at the following subway stations:
2nd Avenue (F line)
Broadway – Lafayette Street / Bleecker Street
West 4th Street – Washington Square
34th Street – Herald Square
42nd Street – Bryant Park
47th-50th Streets – Rockefeller Center (A/C/D lines)
7th Avenue
59th Street – Columbus Circle
125th Street (A/C/D lines)
Holiday Nostalgia Trains will depart from 2nd Avenue on the F line in Lower Manhattan at 10 a.m., noon, 2 p.m. and 4 p.m. They'll depart 125th Street on the A/C/D line in Harlem at 11 a.m., 1 p.m., 3 p.m. and 5 p.m.
Vintage MTA buses will also make an appearance on New York City roads Monday through Friday, 9 a.m. to 5 p.m. from Dec. 3 to Dec. 21.

Photo: Metropolitan Transportation Authority / Patrick Cashin
Four vintage MTA buses will be in rotation during the Holiday Nostalgia Rides: Bus #3100 (1956), Bus #100 (1959), Bus #1059 (1961) and Bus #8466 (1966, rebuilt 1984).