There's nothing like getting something for free, even though we know nothing is ever really, truly free. But free pizza is one of those things we're willing to do things we otherwise wouldn't consider doing — but would you get a free pizza tattoo to get free admission to the Museum of Pizza?
The mysteriously raunchy pop-up coming to NoHo this fall is sure to be as hot a ticket as a pie fresh out of the oven. Tickets are on sale now for $35, but if you're looking to jump ahead of the line and willing to literally get a little skin in the game, you can score a free ticket by getting a free pizza tattoo on Friday, Aug. 10. The tattooing will take place during a free party (with RSVP) at a secret location in Brooklyn beginning at 8 p.m.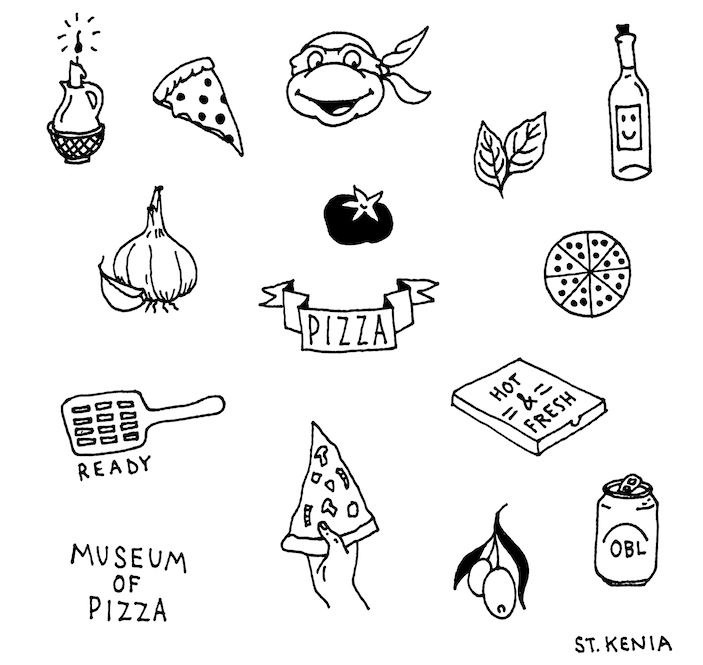 Here's the flash sheet of free pizza tattoos by St. Kenia.
What's troubling is the Museum of Pizza didn't come up with the free tattoo for free admission gimmick: It's borrowing from Washington D.C. chain &pizza that claims its employees are just so devoted, they started getting tattoos of its ampersand logo all on their own. The company now foots the bill for them, as well as the occasional customer.
The Museum of Pizza is popping up from Oct. 13-28 at 718 Broadway in NoHo. Created by a group of vloggers called the Nameless Network, the Museum of Pizza will be "a place to take amazing photos and absorb every wonder of our larger-than-life, immersive installations" like a pizza beach, a cheese cave and a pizza art gallery. Events will include pizza meditations and screenings of… Mystic Pizza, presumably?
Don't forget about the for-real-this-time New York Pizza Festival coming to the Bronx on Oct. 6-7. But definitely ignore the U.S. Pizza Museum, which will open Aug. 10 — in Chicago.