After a Sunday of unity and controversy in the NFL, the United States auto racing giant NASCAR made it crystal clear that there will be no repeat of the dozens of football players demonstrating during the national anthem.
In a report by the Associated Press, owners made it be known that there will be no tolerance for drivers or crew members that do not stand for the national anthem. 
"Anybody that don't stand up for the anthem oughta be out of the country. Period," NASCAR legend Richard Petty said. "What got 'em where they're at? The United States."
Richard Childress, the owner of Richard Childress Racing, echoed Petty's sentiments. 
"It'll get you a ride on a Greyhound bus," Childress said. "Anybody that works for me should respect the country we live in. So many people gave their lives for it. This is America."
There were no reported instances of national anthem dissent at NASCAR's Cup Series race in Loudon, NH on Sunday. 
While the organization is taking a staunch stance on the anthem, it is interesting to note that the Confederate flag is a normal sight among infields and tailgates at NASCAR races.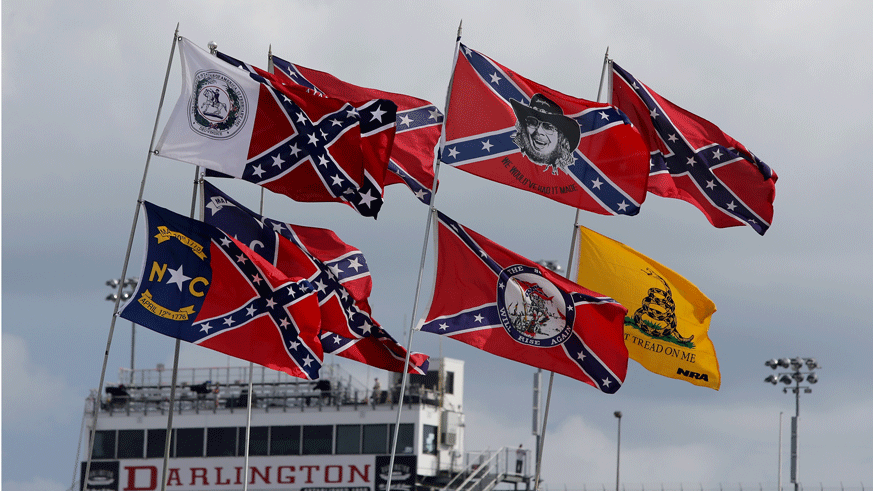 NASCAR owners were prompted to comment on the anthem after the President Donald Trump's remarks on NFL players kneeling for the national anthem. 
At a rally in Alabama on Friday, Trump baited the crowd.
"Wouldn't you love to see one of these NFL owners, when somebody disrespects our flag, to say 'Get that son of a b—tch off the field right now, out, he's fired," he said. 
NFL owners condemned Trump's comments while players demonstrated their right to protest the anthem by either kneeling, linking arms or raising their fists.