Thousands of drivers, cyclists and pedestrians go past the Bowker Overpass on the Esplanade every day, but soon, there will be a reason for them to stop and stare.
Work will begin this week on a mural there as part of a collaboration between The Esplanade Association and nonprofit Now and There.
Called "Patterned Behavior," the contemporary public art piece will span the 120-by-13-foot wall that faces the Charles River as well as the pillars that can be seen from Storrow Drive. 
It's meant to convey the "beauty, diversity and the energy" of the area and to entice residents to visit a park they may otherwise not venture to, said Jessica Crimmins, interim executive director at the Esplanade Association. It will take about three weeks to complete. 
The Esplanade Association is an independent nonprofit that works alongside the Massachusetts Department of Conservation to manage the Esplanade, a state-owned park. The area is frequented by bikers and joggers, but public art will be a way to add another use to the space. 
"Not everybody uses the Esplanade for recreational purposes, and we want people interested in arts and culture to come into the park as well," Crimmins said. "The more a park is used, it adds to people's quality of life. We're very lucky in Boston with all the green space that we have."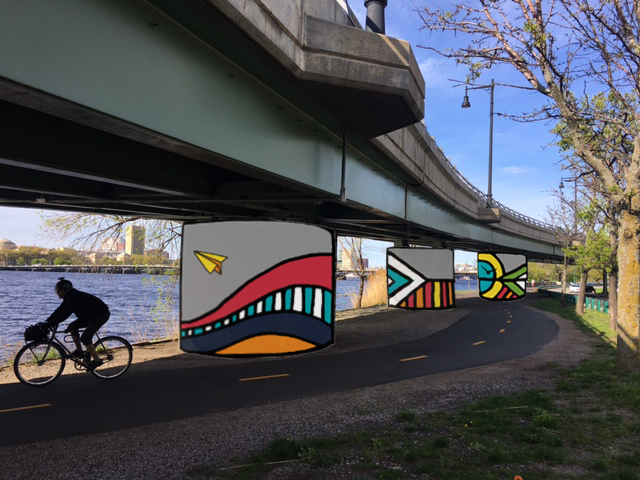 The space near the overpass isn't exactly bright and welcoming itself, though. It's a bit dark, Crimmins acknowledged, and has been covered in graffiti in the past. The mural will be a reclamation of the space "to take that over and add vibrancy and color," she said.
The association commissioned the piece from Now and There, a nonprofit that aims to create more public art around Boston to bolster its modern, contemporary identity. This piece, which will be painted by Boston artist Silvia Lopez Chavez, is the second in Now and There's series called "Year of the Woman," an initiative that features female artists.
"We felt like we needed to give other female artists and young girls a vision of what women artists can do for our city," said Kate Gilbert, executive director of Now and There.
It's crucial in Boston, Gilbert said, to show that public art is more than just the historic statues so frequent in our city. Art gives people a way to think about public spaces differently, she said, and create places where people can connect.
Gilbert estimated that 100,000 people will be able to see the new mural, from vehicles, bike traffic and foot traffic.
The mural will feature graphics like a sailboat and bike because those elements of the city are visible from the mural site, as well as large swaths of color to make the area more "dynamic."
"There's no one representation that can sum up all of Boston — it's innovative, yet has history. It has a great connection to nature," Gilbert said. "It's a great city, and I think Silvia is trying to represent that in her mural."