Whether it's a foot fetish or just a fantasy, footjob videos are searched for more in New York than any other U.S. city, according to data from Pornhub.
The world's largest porn site dove into their database to dish the most popular porn searches, categories and porn stars in New York, Boston and Philly — and we have the scoop. Out of these three cities, New York alone finds toes tantalizing and searches for footjobs 110% more than the rest of the country.
Porn Searches New Yorkers Love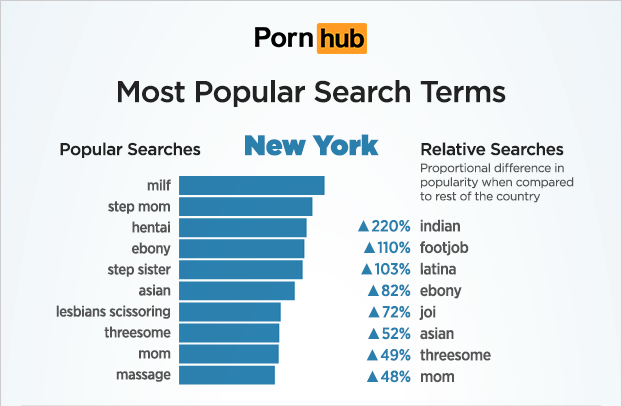 When they're not playing footsie — sorry, we had to — New Yorkers are busy searching for "MILF" and "step mom" videos, proof that they're not immune to nationwide trends in porn searches. Pornhub revealed that searches for "MILF" spike on Mother's Day, and the two mom-centric terms also rank high in both Boston and Philly.
Porn Categories New Yorkers Love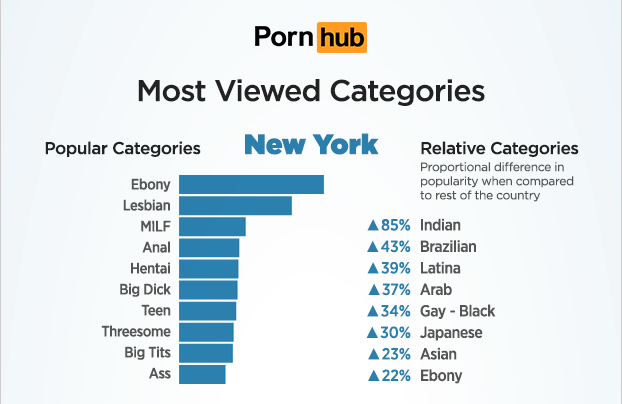 The most frequented porn categories as well as porn searches in New York emphasize the city's broad diversity. "When compared to the rest of the United States, searches for 'indian' are 220% more popular in N.Y.C., 'latina' is 103% more popular and 'asian' 52% more,"  Pornhub comments in their blog featuring the data, adding that this illustrates the "diverse ethnicity" of the city. Categories are no different: "Indian," "Brazilian," "Latina" and "Arab" all see a surge in popularity of more than 35% over the national average.
Perhaps not surprisingly, size seems to matter on all fronts for Pornhub users in The Big Apple: "Big Dick," "Threesome" and "Big Tits" all rank among the most popular porn categories in New York.
Sorry, New York, you have the size but not the stamina. That award goes to Philly; Pornhub users in the City of Brotherly Love sure have a thing for the ladies, and their average watch time is a full 8 seconds longer than the site's average of 10 minutes and 26 seconds. 
Pornstars New Yorkers Love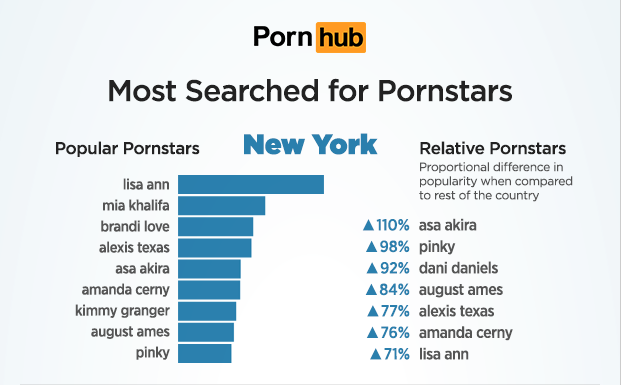 Although Boston consciously navigates to feminist porn 20% more than the rest of the country by clicking on the "female-friendly" category, New Yorkers might be more into feminist porn than they know. The most popular pornstar in this footjob fantasy haven is Lisa Ann, who's an outspoken critic of extreme porn, bringing attention to what she calls "abusive scenes" and how they're damaging to performers because they "break you down as a woman." Though she's retired, the stats show no sign of her popularity sinking.
The second most-searched pornstar is yet another woman who could be grouped into the feminist porn category: Mia Khalifa. The 24-year-old adult entertainment actress openly criticizes famous men, including NFL safety Duke Williams and Ole Miss quarterback Chad Kelly, for trying to DM her.